The 4th edition of Wine Paris & Vinexpo Paris ended on a very positive note.
With an increased number of exhibitors and international visitors, the event has become a fixture in the wine and spirits industry calendar. The fair welcomed 3,387 exhibitors (20% increase in surface area and 25% more international exhibitors vs. 2022), from 42 wine-producing countries, and 36,334 visitors (+41% increase in visitors vs. 2022), 38% of whom were international from 149 countries, with an 85% increase in international visitors. The top 5 visitor countries after France include Belgium, the United States, Italy, the United Kingdom and Germany. The Vinexposium group's digital portal helped to increase business opportunities and to multiply the number of meetings. As a result, 6,330 meetings were held for more than 12,279 conversations between producers and buyers.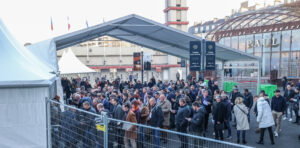 A landmark year for Be Spirits The Be Spirits area, which this year occupied a dedicated hall with 43% more space and 44% more exhibitors than in 2022, was also a great success. The ambitious and renewed programme of the event was acclaimed. Masterclasses, conferences and round tables brought together 3,249 people over the three days. The sommellerie was particularly honoured with events such as the Duos Chef & Sommelier, the Battle des Sommelières and the Vinexpo Challenge. On the OFF side, Wine Paris & Vinexpo Paris has developed a formidable programme of events outside the walls to extend the discussions into the heart of Paris. Throughout the city, 180 bars and restaurants, chosen for the quality of their cuisine, the experience they offered and the atmosphere, proposed offers and activities around wine and cocktails.
On the road to 2024!
Wine Paris & Vinexpo Paris has already started preparing for its next edition. As part of the international dynamic deployed by the Vinexposium group through its events on the main consumer continents, in New York, Singapore, Quebec, Rioja, Seoul, Amsterdam and New Delhi, Wine Paris & Vinexpo Paris will mobilise French and international players even more strongly in 2024. The next edition of WINE PARIS & VINEXPO PARIS will be held from 12 to 14 February 2024.
Photos: Vinexposium