Saint-Emilion Crus Cup 2023
On January 30, 2023, a new edition of the prestigious Coupe des Crus de Saint-Emilion contest took place. It has been organized since 1999 by the Saint-Emilion Wine Council (Conseil des Vins de Saint-Emilion) and consists of a competition between the wines, in the forme of eliminatory matches over 3 vintages. The Coupe des Crus 2023 was sponsored by Jonathan Choukroun Chicheportiche, journalist and editor-in-chief of VertdeVin Magazine.
This year, the competition brought together a jury of 80 people, made up of wine professionals and knowledgeable amateurs – journalists, oenologists, sommeliers, wine merchants, as well as students in sommelier schools and members of wine clubs. The event was held at the Palais de la Bourse, in the heart of Bordeaux.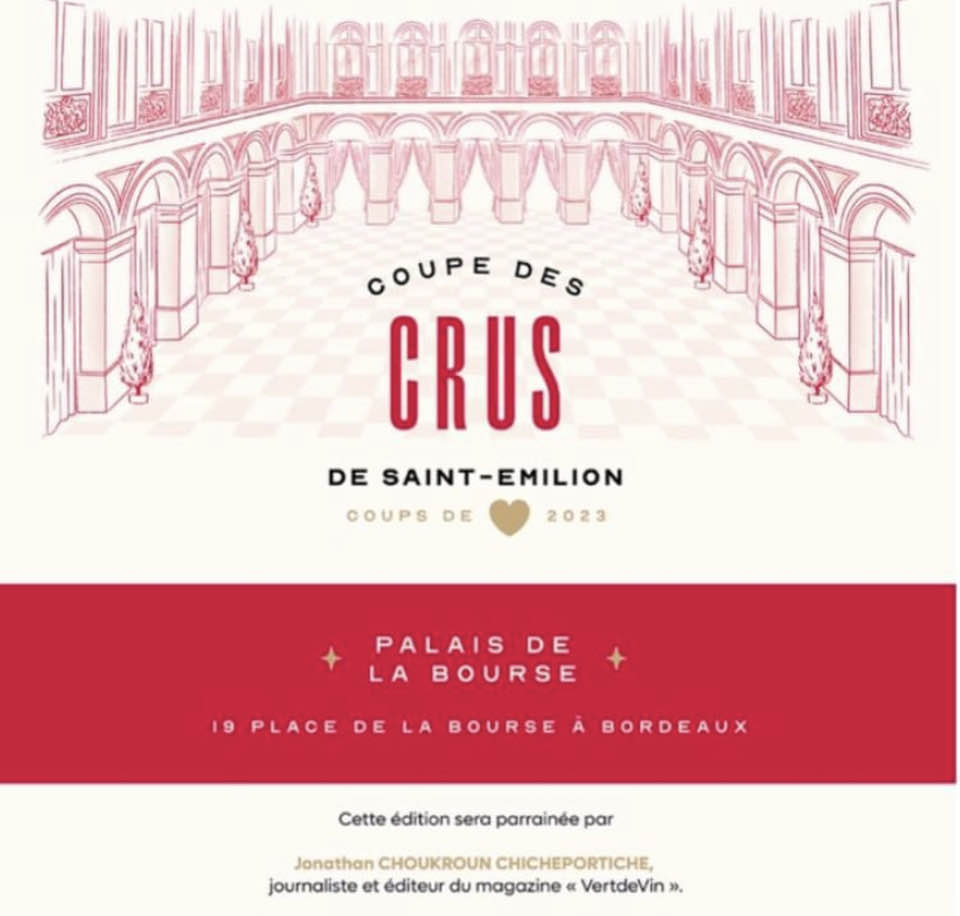 Three vintages (2018, 2019 and 2020) of 159 crus were judged in a blind tasting, in the form of matches. The principle of the contest is the following. Two wines from the same appellation compete on the same vintage, and they are evaluated by three judges, who together choose the best cuvée for a vintage. The vintage that has proven to be the most qualitative and the most constant in its quality over the three vintages presented wins the match and moves on to the next stage. The second is definitively eliminated from the contest. At the end of the competition, the jury designates their "Coups de Coeur".
During the 2023 edition, 24 Crus were selected within 5 categories: Saint-Emilion, Saint-Emilion Grand Cru, Saint-Emilion Grand Cru Classé, Puisseguin Saint-Emilion and Lussac Saint-Emilion.
The "sponsor" of the edition, Jonathan Choukroun Chicheportiche, announced the results at the end of the tastings. The Coupe des Crus, a demanding competition that is both fun, original and of a "sporting" principle, allows the jury to judge the wines objectively and to rediscover the wines of Saint-Emilion.
The winning wines will be present at the Maison des Vins de Saint-Emilion and will be highlighted throughout 2023 during communications and events in the Saint-Emilion vineyard.
2023 "COUPS DE CŒUR" wines
PUISSEGUIN SAINT-EMILION
Château Soleil
Château Pontet Bayard
Château Clarisse « Vieilles Vignes »
Château Coudroy – Borie de l'Anglais
LUSSAC SAINT-EMILION
Château Bel Air Jean & Gabriel
Château La Rose Perrière
Château de la Grenière – Cuvée de la Chartreuse
Altéa
SAINT-EMILION
L'Archange
Clos le Brégnet
Clos Antico
Château Rolland-Maillet
SAINT-EMILION GRAND CRU
Château Trimoulet
Château Rol Valentin
Château Croque-Michotte
Château Vieux Larmande
Château La Croizille
Château Tour Saint-Christophe
Château Carteau Côtes Daugay
Château des Laudes
SAINT-EMILION GRAND CRU CLASSE
Château Soutard
Château de Pressac
Château Dassault
Château Destieux