VINISUD 2018: new edition, new discoveries!
Come to discovers some news and innovations on the VINISUD 2018 .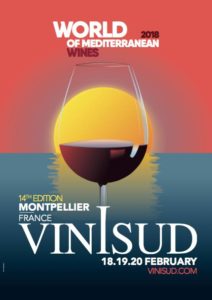 On February 18th, 19th and 20th, VINISUD 2018 will be held at the Parc des Expositions in Montpellier.
This international showcase is an opportunity for all wine professionals to participate in a brand new concept. This year the 2018 edition revolves around "commercial efficiency, the discovery of new great wines and the exploration of new consumer trends". The Mediterranean wine fair welcomes nearly 1,500 exhibitors and more than 30,000 international visitors from more than 70 nationalities. Among them, there are 400 invited international VIP buyers. "Vinisud is positioned in the buyers' agenda as a major event in the TOP 5 of major international events. "
Come and discover the new theme of the Mediterranean fair …
The event focuses on "new trends in consumption on the market such as organic consumption, vegan, responsibility … It is about meeting the expectations of buyers" and producers more and more aware on health and the environment! VINISUD organizes its event to answer the concerns of consumers.
You can explore several studies:
The study "State of play in responsible wine consumption in France and in the world "
The study "Consumer trends in New York vs Paris"
"The International Observatory of Mediterranean Wines".
VINISUD, "the international showcase of the world's first vineyard"
It is a question of finding the major spaces promoting innovation, the identity of wines and terroirs:
The MEDITERRANEAN PALACE, with more than 2,000 references in free tasting with the Union of Oenologists of France of Languedoc-Roussillon
The SPARKLING ZONE, dedicated to a free tasting of sparkling wines
The MEDITERRANEAN EXPRESSION space by VINISUD & WINE MOSAIC, devoted to rare and original grape varieties
The NEW WAVE, which highlights the new winemakers and actors of tomorrow
The MEDITERRANEAN WINE TOURISM area, in association with Winetourisminfrance.com, to highlight the oenocultural particularities
The DIGITAL HUB, the real lung of the digital ecosystem of the show, animated by the SOWINE agency
See you in Vinisud on the 18th, 19th and 20th of February 2018! Do not forget to visit us! (Hall B3, B20)
Léa Rossi