The Great Cuisine of VINITALY between Wine Business and Wine & Food Culture
Star chefs and new names, finger food and takeaway meals, not to mention organic menus, product culture and the overall presentation of Italian culinary traditions are a strong-point at Vinitaly. It is a way to promote wine and ensure appreciation of all its market potential.
Vinitaly is unique on the international exhibition scene not the least thanks to its close link with the food on show with Sol&Agrifood and high quality catering. This is the Italian approach to wine business, a style that becomes format ideal for all professionals buying wine along the supply chain: from wholesalers to importers-exporters, through to operators in the horeca channel, all seeking new ways to diversify the offering for out of home consumption.
The calendar 9-12 April during Vinitaly includes daily appointments for lunch doubling up as full-scale educational events in the Ristorante d'Autore thanks to menus by famous chefs, as well as the more relaxed yet always high-quality food in the Self Service d'Autore prepared by chefs belonging to the Jeunes Restaurateurs d'Europe Association, and Goloso Restaurant at Sol&Agrifood managed by the Italian Federation of Chefs.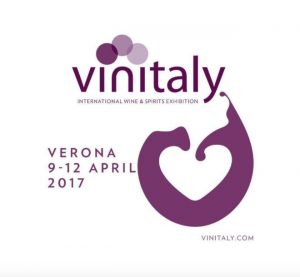 Ristorante d'Autore – Designer Restaurants.
Every day, Ristorante d'Autore (1st floor, Palaexpo) sees journalists Paolo Massobrio and Marco Gatti help diners discover recipes by four great chefs together with wines proposed this year by the Wine Tourism Movement and the Franciacorta Consortium.
The kitchens will host chefs Roberto Conti – Trussardi alla Scala Restaurant, Milan; Daniele D'alberto – BR1 Cultural Space, Montesilvano Colle (PE); Marco Volpin – Le Tentazioni, Villatora di Saonara (PD); Matteo Grandi – De Gusto, San Bonifacio (VR). (Menus and bookings here)
Self Service.
The Self Service d'Autore (1st floor, Signori Gallery between Halls 11 and 12) is managed by the JRE Association (Jeunes Restaurateurs d'Europe) with chefs Luigi Pomata – Luigi Pomata Restaurant, Cagliari; Renato Rizzardi – La Locanda di Piero Restaurant, Montecchio Precalcino (VI); Giulio Coppola – La Galleria Restaurant, Gragnano (NA); Cristian & Maria Santandrea – La Tenda Rossa Restaurant – Cerbaia, Val di Pesa (FI); Deborah Corsi – La Perla del Mare Restaurant, San Vincenzo (LI); Iside Maria De Cesari & Romano Gordini – La Parolina Restaurant, Trevinano Acquapendente (VT); Paolo Masieri – Paolo & Barbara Restaurant, Sanremo (IM); Enrico Gerli – I Castagni Restarant, Vigevano (PV).
The Wine Tourism Movement and the Franciacorta Consortium are the wine partners for this event. (Menus and bookings here)
Goloso Restaurant. The Italian Federation of Chefs will manage the Goloso Restaurant adjacent to Hall C-Sol&Agrifood that this year becomes a dining area open 10.00-16.00 complete with a takeaway service. The wine list is organised by the Wine Tourism Movement. (Bookings here)

Other fine taste venues. Speedy Goloso is located Hall C-Sol&Agrifood with finger foods and snacks.
The NaturalmenteBIO Restaurant, adjacent to Hall 8 (hosting Vinitalybio and Vivit) offers dishes made with certified Italian organic produces, while Gourmeat Bistro in Hall F / Enolitech offers quick but high quality lunches based on typical Tuscan produce.
The gastronomic offering is completed by proposals by exhibitors in the "Citadels of Gastronomy", in area H with the Prosecco DOC Restaurant, the Cantine Giacomo Montresor Restaurant, Trattoria degli Amici promoted by the Sant'Egidio Community, the Franziska Splendori Restaurant, the Piedmont Restaurant with stat chefs and Abruzzo Street Food. (Bookings here)
More information on Vinitaly