Just a few steps from Porta Susa train station, this restaurant offers French-style cuisine besides menus on vegetables; Stefano Sforza chef has been leading the team for two years after several experiences in France and Italy. His cuisine is looking for balance, where brown grounds, spices and different cooking methods become the pivot to enhance the pure taste of the ingredients.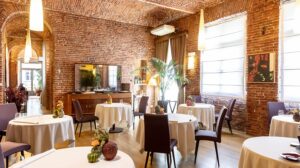 Well-done plates are the rice with celery water, beef heart and red currants, the spaghetti with citrus oil and the pigeon with banana and curry.
The selection of wines embraces all of Italy and rides hard on the French wine-growing regions; the young sommelier Carlo Salino's selection is rigorous, and its attention to small producers juxtaposed with the greatest interpreters of terroirs is well appreciated. To underline, the rich presence of teas and waters.
Photo credit: Opera Torino