Record exports for New Zealand leads to largest presence at Prowein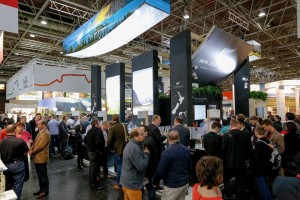 New Zealand's wine industry is gearing up for its largest ever presence at the Prowein International Wine & Spirits Trade Show, following a record $1.54 billion in exports in 2015, up 14% on 2014.
The 2016 event, held from 13 to 15 March in Dusseldorf, Germany will see a record number of New Zealand producers in attendance. Around New Zealand 86 wineries will showcase wines either through local importers, on their own stands, or as part of the 'New Zealand Wine Pavilion'.
The New Zealand Pavilion will host 31 producers, which will represent New Zealand's 10 main wine regions, with around 200 wines available for attendees to taste.
"I'm looking forward to attending Prowein for the first time this year. It's a great opportunity for producers to explore new export opportunities and capitalise on the increased demand. It will be wonderful to see such strong representation from New Zealand." (Philip Gregan, CEO of New Zealand Winegrowers)
Event Programme :

The diversity of New Zealand wine will be highlighted further through a series of seminars held at the New Zealand Pavilion, with topics covering: Regional and Oak Aged Sauvignons, Pinot Noir, Bold Reds, Sparkling Wines and White Wines Beyond Sauvignon. German Sommeliers Markus Berlinghof and Christina Hilker, both of whom visited New Zealand in 2016 for the International Sauvignon Celebration and Sparkling and Chardonnay Symposium, will host the seminars.
For further information or to buy tickets please visit this link.
Prowein in a few words
Held in Dusseldorf, Germany, Prowein is one of the largest and most important wine fairs in Europe, with over 50,000 visitors from 120 countries who attended the 2015 event. Prowein gives wine producers access to the world's most influential sommeliers, chefs, journalists and international wine buyers, all under one roof.