Optiwine: Make a wine sublime in just 10 minutes!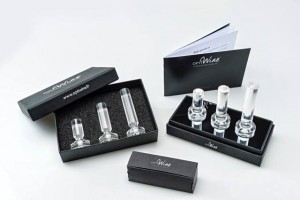 Optiwine is an invention (100% Bordeaux) that allows the nano-aeration of a wine to bring it to its optimal status in just 10 minutes. It consists of a set of three plugs/corks of different sizes.
This new tool that soon will become essential was conceived and designed by Olivier Caste and Michael Paetzold (oenologist and specialist of oenotechniques process). "The idea was born after a frustrating tasting. On the occasion of private party at the company, I wanted to open some very nice bottles. Unfortunately, to my disappointment they proved very average because they were poorly oxygenated. From that moment my desire to find a way to avoid having this kind of inconvenience was born… "
The principle of Optiwine was developed after observing, at a tasting that many taste molecules remained untapped for tasting. After 3 years of research, development and more than 300 comparative tastings the Optiwine was born.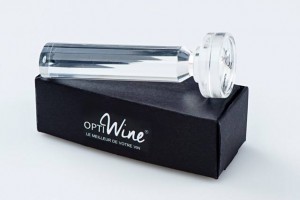 The Optiwine is a product 100% made in France. It is made by commonly known Surlyn translucent resin and without any molecular interaction, finely polished and comprises a plug head and a cap (more or less long depending on the model) having 16 facets.
With these famous facets the Optiwine allows a nano-aeration 100 times lower than in a conventional aeration. The tiny amount of air trapped in the neck during the installation of the Optiwine plug will be redistributed / smoothly flowing across the sides during the inclinations.
"After observing a large number of taste molecules remained untapped at the tasting, our research has focused on nano-aeration. We have discovered that a wine is fully blossomed with oxygenation by a few dozen micrograms per liter O² (10-40 mg. / L). This tool allows you to produce the right amount of oxygen in the wine to prevent destructive oxidation! "
Focus on Michael Paetzold
Michael Paetzold is a passionate entrepreneur in the world of wine and vines. He is the head of the firm Paetzold Partners which employs up to 120 people in Gironde. This company was founded 25 years ago and works in the areas of winemaking process, the wine equipment, œnotechnique benefits and in the bottling of wines. The company works not only in France and in Europe but also in South America and South Africa.
How to use the Optiwine?
The Optiwine is designed to be easily used.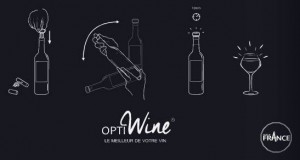 Select the Optiwiner appropriate to the age and color of your wine (The larger the "Optiwine" is, older the wine should be). Uncork the bottle and immediately replace the cap with an Optiwine. Take the bottle, press the Optiwiner and gently tilt the bottle a number of times corresponding to the volume of the bottle (75 cl = 3 times, 5 times = 150 cl; 2 times = 37.5 cl). Hold the bottle still while letting the Optiwiner work and wait 10 minutes before serving the wine. If you want to decant your "optiwined" wine, do it just before serving.
A demonstration video is available on this link.
How to choose the "right" Optiwiner?
Optiwiner n°4: For red wines aged 0-4 years.
Optiwiner n°6: For red wines aged 4 to 10 years. Also for white wines and rosé aged 0-2 years.
Optiwiner n°8: For red wines older than 10 years. Also for white wines and rosés that are older than 2 years.
Testimonials of experiences
After testing the Optiwine a few wines I have been shown that this little process actually reveals the hidden face of wine! On the ones I tasted there was a more aromatic, gourmand nose and opened more quickly. The palate offered better matter / textures, more harmonious aromas / more "precise" as well as more supple / pleasant tannins.
Finaly the wine is more « gourmand » and harmonious! In the end I would say it's been possible to save time and to continue to hold the qualities of wine.
"Few days ago, my friends Michael Paetzold and Olivier Caste, presented me Optiwine.
I was skeptical ; Thereby we tasted several vintages, young and old. Spectacular results, delightful wines expressions and vintages. Thank you for this nice work." (François Mitjavile, Best Winemaker of the World 2013. Château Tertre Roteboeuf, Saint-Emilion Grand Cru)
Where can you find the Optiwine?
The kit includes 3 sizes of Optiwiner, and it is offered for 19 € (retail price). At www.optiwine.fr. If you are a professional and you want to market the Optiwine, Please contact Olivier Caste on the website.