The limited edition of Ardbeg Perpetuum celebrates the 200th anniversary of the distillery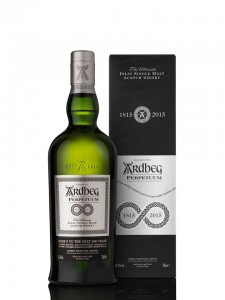 For the "Ardbeg Day", on May 30, 2015, "one of the most smoked, peaty and complex Single Malts of Scotland" offers its new limited edition Ardbeg Perpetuum for tasting.
"Since its first distillation in 1815, Ardbeg has not stopped to be inspired from its roots on the island of Islay. The island´s peat and freshwater areas provide its strength of character!
The will of Dr. Bill Lumsden – Director of distillation and the creation of whiskeys – was to blend in a single edition some of the best expressions of Ardbeg.
Illustrating the link between traditional methods and commitment to innovation, Ardbeg Perpetuum contains several Ardbeg whiskeys (including whiskeys aged in bourbon casks, spicy, and aged in sherry casks), expressing the unique character of Ardbeg 200 years." This Whisky is bottled at 47.4% alcohol volume.
Ardbeg Perpetuum is sold to the target price of €90 in wine shops and on the website. The Vertdevin review of this Whiskey is available on this link.
©MoëtHennessy