NEW RECORD: The 157th Hospices de Beaune Wine Auction totals € 13,529,301
Two new sales records and a 2nd best price for the Presidents' Barrel (420,000 €)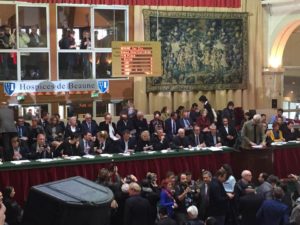 On Sunday, November 19, at 14:30 (2.30pm) took place the 157th auction of the Domaine des Hospices de Beaune. For this 2017 Wine Auction 630 pieces of red wine, 157 pieces of white and 15 pieces of alcohol were sold for a total amount of €13,529,301 (£12,041,078 / $15,964,575). It's the highest result ever for the Hospices de Beaune Wine Auction, breaking the record of 2015 (€ 11.3m).
A new record for a barrel of Bâtard-Montrachet !
A new record was also made with the sale for €138,650 (£122,820/ $162,840) of a barrel of "Bâtard-Montrachet Grand Cru – Cuvée Dames de Flandres".
Charity & The President's Barrel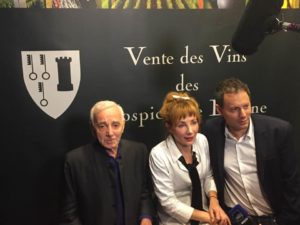 Since 1978, the Hospices de Beaune donates one or more barrels, known as La Pièce des Présidents, to benefit carefully selected charitable purposes. Since 1945 an Honorary President has presided over each "Piece des Présidents". As a reminder this year, the Hospices de Beaune supported three associations : Agnès B. and Julie Depardieu for The Foundation Tara Expéditions, Marc-Olivier Fogiel, for The Federation for Brain Research and Charles Aznavour for The Foundation for Alzheimer research.
Their presence motivated the bidders' enthusiasm, and La Pièce du Président contained two barrels of Corton Grand Crus -Clos-du-Roi – Cuvée des Présidents was sold for €420,000 (£373,800 / $495,600). It's the second highest price ever bought by Maison Albert Bichot and an Chinese collector. Exceptionally this year the "President's Barrel" consisted of two barrels.
Top 5 best sellers of this year:
Corton Grand Cru – Clos du Roi Cuvée des Présidents : €420,000
(£373,800 $495,600)
Bâtard M ontrachet Grand Cru – Cuvée Dames de Flandres : (Lot 322) €138,650 (£122,820 $162,840)
Bâtard M ontrachet Grand Cru – Cuvée Dames de Flandres : (Lot 321) €123,375 (£109,804 $145,583)
Bâtard-M ontrachet Grand Cru – Cuvée Dames de Flandres : (Lot 320) €117,500 (£104,575 $138,650)
Clos de la Roche Grand Cru – Cuvée Cyrot-Chaudron : (Lot 119) €94,000 (£83,660 $110,921)
Clos de la Roche Grand Cru – Cuvée Cyrot-Chaudron : (Lot 122) €94,000 (£83,660 $110,921)