Gerhard Richter illustrates the label of Château Mouton Rothschild 2015
Every year since 1945 a great artist has illustrated the label of Château Mouton Rothschild, bringing together the most famous names in contemporary art in a collection to which a new work is added each year.
In 1924, to salute his first vintage bottled entirely at the château, Baron Philippe de Rothschild (1902-1988), father of Baroness Philippine (1933-2014), asked the famous poster designer Jean Carlu to create the Mouton label. Ahead of its time, it remained an isolated initiative. In 1945, this time to celebrate the return of peace, Baron Philippe decided to crown the label for the vintage with the "V" for Victory, drawn by the young painter Philippe Jullian. This exceptional circumstance marked the start of a tradition and, every year since 1946, a different artist has been invited to create an original artwork for the label.
Initially, Baron Philippe chose painters from amongst his friends, such as Jean Hugo, Léonor Fini and Jean Cocteau. In 1955, Georges Braque agreed to illustrate the vintage; he was followed by the greatest artists of our time, including Dali, César, Miró, Chagall, Picasso, Warhol, Soulages, Bacon, Balthus, Tàpies and Jeff Koons, forming a fascinating collection to which a new work is added each year.
Mouton's owners, now Camille and Philippe Sereys de Rothschild and Julien de Beaumarchais de Rothschild, have always been responsible for choosing the artists, respecting their artistic freedom, though many of them have been attracted by themes such as the vine, the pleasure of drinking or the ram, the Mouton emblem. The artists receive no fee for their work but are given cases of Mouton Rothschild, including of course "their" vintage.
Château Mouton Rothschild 2015 by Gerhard Richter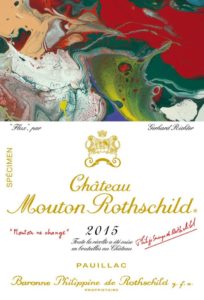 The commission for the illustration of the 2015 vintage was given to the German artist Gerhard Richter, born in 1932, a remarkable inventor of pictorial forms and techniques.
The label for the 2015 vintage, with its slightly altered look, bears the hallmark of the new generation (Camille Sereys de Rothschild, Philippe Sereys de Rothschild and Julien de Beaumarchais de Rothschild) that has succeeded Baroness Philippine de Rothschild, who passed away in 2014. It is signed by Philippe Sereys de Rothschild on behalf of the three family owners.
G. Richter is a worldwide reputation, he bases his work on the dialectical relationship between painting and photography, representation and abstraction.His work for Château Mouton Rothschild is the result of a process, which he calls "Flux", that is both random and carefully prepared. The artist fixes moving colours in a photograph, taken at the ideal moment of their composition, just as a harmonious blend gives a great wine, a living creation, its balance and fullness.
©Mouton