New dining experience in Bordeaux by Champagne Krug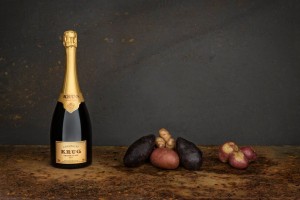 On the occasion of the " Le Mois Krug Bordeaux ", the famous Krug Champagne House offers a new dining experience under the sign of gastronomy in the capital of wine : Bordeaux (from September 15 to October 15 2015).
This unique experience will combine know-how and inventiveness of the most famous local chefs, to the creation of the iconic cuvée of the Maison Krug, the Krug Grande Cuvée.
An exceptional cuvée composed of a harmonious blend of 120 wines from reserve wines and wines of the year, flagship of Champagne Krug.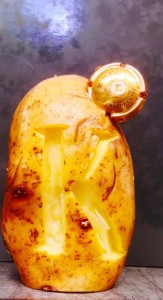 « The flavors and aromas of Krug Grande Cuvée will be revealed through a variation of a representative product of our land: potato. This tuber known to all, will be offered in all its forms, according to the inspiration and technique different chefs taking part in this gastronomic union. Most chefs will lend themselves to the challenge of association with potatoes, and some will surprise us with other ingredients.
Champagne Krug Grande Cuvée naturally combines the nose and mouth of all sorts of dishes, thanks to the mosaic of flavors it contains. The potato is one of the most versatile foods and most widespread in the world. This tuber is in an infinite number of varieties, colors, sizes, flavors … Ideal for food pairing, the simplicity of the potato allows chefs to give free rein to their creativity. Krug and Potato is a pairing that may seem simple and obvious, but which is actually bold and unifying, true to the spirit of Joseph Krug nonconformist. »
The Champagne house invites you to discover the subtle alliance between Krug Grande Cuvée and potatoes, sublimated in various dishes and refined, restaurants and partners wineshops of « Le Mois Krug Bordeaux ».
You can enjoy including:
At the Prince Noir: A tasty mix of lean potato pulp, hazelnut butter and summer truffles.
At Château Cordeillan Bages: A iodized delight that will combine to perfection potato ice and anise oysters.
At L'Estacade: An alliance of flavors with a "rattes du Touquet" cream, crab and trout eggs.
…
This gastronomic event will take place in a selection of prestigious establishments in the Bordeaux region from September 15 to October 15 2015.
Restaurants list :
L'Estacade, 33 Quai des Queyries, 33 000 Bordeaux
Château Cordeillan Bages, Route des Châteaux Bages – BP 79, 33250 Pauillac
St James, 3 Place Camille Hosteins, 33270 Bouliac
Le Chapon fin, 5 rue Montesquieu, 33000 Bordeaux
Grand Hôtel, 2 et 5 Place de La Comédie, 33000 Bordeaux
Le Gabriel, 10 Place de La Bourse, 33000 Bordeaux
Au Bonheur du palais, 72 rue Paul Louis Lande, 33000 Bordeaux
Le Prince Noir, 1 rue du Prince Noir, 33310 Lormont
Hostellerie de plaisance, 5 Rue du Clocher, 33330 Saint-Émilion
Garopapilles, 62 rue Abbé de L'épée, 33000 Bordeaux
Caudalie, Chemin Smith Haut Lafitte, 33650 Martillac
Wine shops list :
Millesima, 87 Quai de Paludate, 33000 Bordeaux
L'Univerre, 40 42 rue Lecoq, 33000 Bordeaux