Chinese billionaire Jack Ma buys two more Bordeaux Châteaux
Jack Ma, the founder of e-commerce giant Alibaba and owner of the Château de Sours, has bought two Bordeaux vineyards previously owned by Bernard Magrez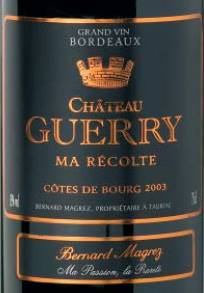 Bernard Magrez has just sold the Château Perenne (Blaye Cotes de Bordeaux, 64 hectares) and the Château Guerry (Côtes de Bourg, 21 hectares). Both vineyards was acquired in 1997 and 2004 by the Maison Magrez. They are sold for an amount of €11,8 million ($13,35 million) including vineyards, châteaux and wine stocks.
The Maison Bernard Magrez wants to focus on the luxury segment
The French wine magnate Bernard Magrez wants to refocuse its Château portfolio on luxury wines. Since a few months Bernard Magrez has been seeking to sell a few of its entry-level Bordeaux vineyards in order to buy two more Grands Crus Classés. Currently he owns at least forty vineyards in the world including four Bordeaux Grands Crus Classés: Château Pape Clément (Pessac-Léognan), Château Fombrauge (Saint-Emilion), Château La Tour Carnet (Haut-Médoc), Clos Haut-Peyraguey (Sauternes)
Jack Ma, who is the China's second richest person, is looking to buy large Bordeaux vineyards producing wines under 10€.
Jack Yun Ma had already bought the Château de Sours (Entre-deux-mers) in February 2016. Indeed, in recent mouths he seems to be engaged in a purchasing campaign of entry-level Bordeaux wineries. Since the beginning of the year Jack Ma has acquired 3 Châteaux extending over 165 hectares. They produce over 1.1 million bottles of wine per year.
Former English teacher Jack Yun Ma made his fortune through the creation in 1999 of the Alibaba website. His fortune estimated at € 23 billion. He is the China's second richest person.
Today Alibaba is the China's leading online retailer as well as one of the main competitors of Ebay and Amazon.