Charity evening at Chateau La Fleur Boüard for Mécénat Chirurgie Cardiaque
"La Fleur sur le coeur" Gala : € 66,500 for the Mécénat Chirurgie Cardiaque association !
On June 3, 2016 took place the « La Fleur sur le cœur » (in english : The flower on the heart) evening. This charity evening was organized at the Château La Fleur de Boüard (Lalande de Pomerol) by the « de Boüard de Laforest » family in association with the Mécénat Chirurgie Cardiaque association (cardiac surgery) and with the presence of Mr. Alain Juppé (Mayor of Bordeaux and French presidential candidate).
This charity Gala was organized in the vat cellar of the Château. The aim of this evening was to raise funds for the association. During this evening sponsored by Chantal Thomas and Patrick Timsit some exceptional bottles were provided by private donors for the auction such as: 12 bottles of Château Pichon Comtesse 2010, a double magnum of Chateau Angelus 2011, a bottle of Chateau d'Yquem 1967, an imperial of Chateau Palmer 2004, a magnum of Champagne Grande Cuvée signed Olivier Krug … etc.
A few donors that were outside the wine business wanted to participate wanted in this charity evening. They gave for the auction : Paris / New York air tickets in Business Class (La Compagnie), a Pétrusse scarf, two Paris / Hong Kong plane tickets in business class (Cathay Pacific) … etc
Finally, thanks to generous donors the " La Fleur sur le coeur " evening has allowed to collect € 66,500. This amount will allow to save five children.
Focus on the Mécénat Chirurgie Cardiaque association
Mécénat Chirurgie Cardiaque was founded in 1996 by Francine Leca and Patrice Roynette. When she was chief of a cardiac surgery service, F. Leca received many letters from doctors and parents from Africa and Asia asking her to save their sick child's heart. Lack of financial and logistical resources, it was difficult to respond favorably. That is why in 1996 she decided to create with his godson with the Mécénat Chirurgie Cardiaque association.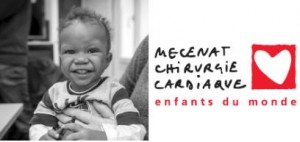 « In many countries, the lack of equipment, skills or financial resources makes the operations impossible. MCC fights every day for the children from these countries, who cannot have the surgery that would save their lives, enabling them to be welcomed and operated in France since 1996. »
The association is focused on four main missions: curing the children, doctors training, missions abroad, education sponsorship.
Currently the voice of this association is supported by 37 famous ambassadors such as Inès de la Fressange, Kévin Rolland, Michel Leeb, Chantal Thomass, Paul Belmondo, Guy Roux, Shirley & Dino, Patrick Poivre d'Arvor, Nelson Monfort, Gonzague Saint-Bris, Stéphane Diagana, Taïg Khris, Michel Drucker…etc.
If you wish to donate money to the Mécénat Chirurgie Cardiaque association please click here.