Champagne & James Bond: Bollinger Spectre Crystal Set 007
Bollinger Spectre Crystal Set 007, a unique Cuvée created to celebrate the latest James Bond film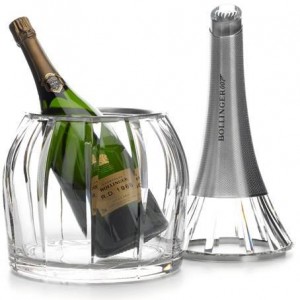 To celebrate the on-screen release of the new James Bond film, SPECTRE, the House of Bollinger – which has been allied with her Most Gracious Majesty's famous agent since 1979 – has decided to create a unique object expressing the ultimate degree of refinement and excellence so beloved of 007.
"For this exceptional creation, Champagne Bollinger has chosen a partner that shares the same values of French excellence and exacting standards of quality, the Saint-Louis Crystalworks." (Jérôme Philipon, President of Champagne Bollinger)
Founded in Lorraine in 1586 and becoming the leading crystalworks in Continental Europe in 1781, Saint-Louis – which now belongs to the Hermès group – has successfully preserved its unique know-how. In their workshops, the master glassblowers keep alive the art of hand-blown crystal, continuing to excel above all in the art of cutting, which is a true hallmark of this great Lorraine crystalworks.
Excellence and Translucency for a unique Champagne, a Magnum of Bollinger R.D. 1988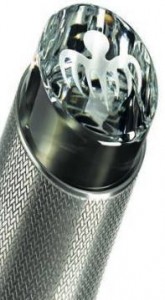 The BOLLINGER SPECTRE CRYSTAL SET was created and designed by designer Eric Berthès. He wanted to create a showcase for a real nectar, Bollinger R.D. 1988. A rare, unequalled champagne, which matures for a long time on its lees to give an exceptional aromatic complexity and long finish.
The magnum of Bollinger R.D. 1988 can be glimpsed, beautifully enhanced and encased in its Saint-Louis crystal presentation. Its base echoes 007's iconic gun barrel, like a fingerprint, while the top of the tin neck label featuring the « BOLLINGER 007 » signature is set off with a cabochon marked with the sign of the octopus, the Spectre!
A collector's object has only been produced in 307 numbered pieces.
Where to buy this BOLLINGER CRYSTAL SET 007 ?
This « BOLLINGER CRYSTAL SET 007 » is available from a number of select wine merchants and in Saint-Louis stores in Paris, London, Hong Kong, Shanghai and Taipei.