2015 Vintage: The harvest started well for Provence' wines
AOC Côtes de Provence, Coteaux d'Aix-en-Provence and Coteaux Varois en Provence
The harvest began in the vineyards of Provence, a little earlier than last year and the average because of the particularly favorable weather conditions. Quality is at the rendezvous, the satisfactory amount, according to initial observations.
At the time of harvest, the indicators are in the green vineyards of Provence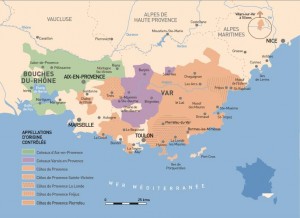 "The health status of the vineyards is impeccable, thanks to dry weather, heat and Mistral. The quality of the harvested grapes is very beautiful. There is also a nice balance and a beautiful material in the first extracts of juice. It's very encouraging for winemaking in the three colors, he foresees an interesting potential for red. "(Alain Baccino, president of the Interprofessional Council of Wines of Provence)
The heat had little impact on the vine, soil still containing mostly water reserves thanks to the rainy winter. Some rains have also been recorded recently.
In terms of volume, the charges grapes are beautiful compared to recent years, experts say. "We will not achieve the volumes harvested in 2014, a particularly generous year. We are quantitatively on a beautiful year average. "(Alain Baccino). Of course, this estimate is made subject to the coming weather conditions (rain, hail and temperatures), the harvest being heavily dependent.
In Provence, there are 26 000 hectares of vines classified AOC and that will be harvested for several weeks. Eventually, more than 160 million bottles PROVENCE 2015 vintage will be commercialized, primarily Rosé, Provence is the first producing region AOC rosé wine.
© CIVP