Belvedere Vodka, a personalized magnum for winter!
On the occasion of the holiday season, Belvedere vodka created a magnum silver bottle to customize.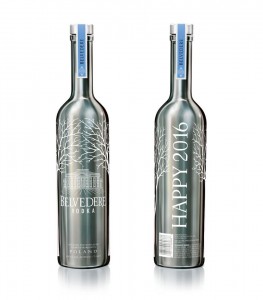 For the first time, the design of the magnum of 1.75 liters is revisited: it offers the possibility to fans to engrave a short message on its back and get it delivered within the space of a week. Limited edition magnum based backlit reveal not only the emblematic tree of Belvedere House, but also the customization chosen, makes it unique.
Always at the forefront of innovation and creativity in combining excellence, the Belvedere House reaffirms its desire to stand out in the world of premium spirits.
Where do you buy this Belvedere silver Magnum ?
The Belvedere silver magnum customize option will be available as of 1 December 2015 on the site www.belvederevodka.com at € 150 sale price.
It will also be available in limited edition, already engraved with the words "Happy 2016" in the Publicis shop of Champs Elysées, on 1 December 2015.