VINEXPO Hong Kong highlights Italian wines
Vinexpo Hong Kong, the international event, leader in wines and spirits, makes Italy as the country honored for the next edition to be held from 24 to 26 May 2016 at the Hong Kong Convention and Exhibition Centre.
Faithful exponent of the exhibition, Italy is the second country most represented at Vinexpo, after France. By placing a focus on Italian production, the exhibition will shed light on the diversity of Italian wines and spirits, organizing many events (conferences, animations), whose program will be unveiled in the coming months.
"Vinexpo is the industry partner. Its aim is to highlight the great diversity of wines and spirits of the world and develop business opportunities abroad … Put a guest country at Vinexpo, pay tribute to its production and specificities while by helping to increase brand awareness and sales in Asia are part of Vinexpo missions." (Deglise Guillaume, CEO of Vinexpo)
A major actor for the wine industry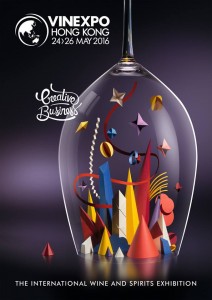 1st world exporter of wine in volume, 1st or 2nd producer alternating with France following the years, 3rd wine consuming countries by volume, Italy is a great wine country.
In recent years, export has become extremely important for Italian wine producers, from $ 197 million 9-liter cases in 2009 to 204,000,000 in 2013 (or 2.44 billion bottles), mainly to the North of Europe and North America.
Today China is also importing more and more Italian wines: 4.54 million of 9-liter cases of Italian wines are exported each year to China, placing Italy as the fifth wine supplier of China and 6th of Hong Kong. Development opportunities are considerable. Being highlighted at Vinexpo Hong Kong will bring them additional visibility to gain market share.