154th Hospices de Beaune wine auction
2014 Edition of the oldest auction of wines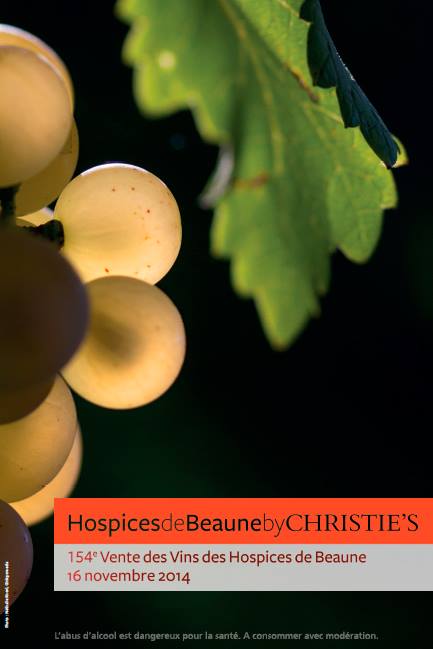 November 16, 2014 in Beaune, will be the 154th edition of the Hospices de Beaune wine auction. This wine event in recent years has assumed a global dimension is not just a barometer of the health of the market for Burgundy wines but also a charity auction which annually engages with associations. This year the sale of the Pièce du President will be distributed to two associations « Toutes à l'école » who work in Cambodia for the education of girls, and the Fondation Imagine » that funds medical research against the genetic diseases. The results from the sale of the Hospices de Beaune will also fund the (Centre Hospitalier Philippe Le Bon).
For this 154th edition of the Pièce du Président will be a barrel of 228 liters of Corton-Bressandes Grand Cru: Cuvée des Presidents. Rare to be out this year makes. (The list of available cuvées at the bottom of articles)
As every year the sale of the Hospices de Beaune is sponsored by celebrities. This year the sale will be chaired by Mrs. Adriana Karembeu and Michel Drucker. Other personalities such as Teddy Riner (sponsor of the Fondation Imagine) will also be present.
It is noticeable that this year as a small innovation Roland Masse announces the release of a new white cuvée of Beaune Premier Cru named "Suzanne et Raymond" (names of donors). Six barrels are available. The grapes come from vines (Chardonnay) planted in 2010 on a parcel that is located near the Fontaine de Lulune (toward Pommard). The soil is stony, calcareous, with white marl.
First, let me make a point on the vintage 2014 in Burgundy
"Despite the bad weather in 2014 we managed to have nice wines. It is true that I had some fear with this vintage given the weather and the fact that generally the years ending in 4 are not successful. But then, this vintage belies this belief because I'm happy.
We had a winter that was not one dry a spring with devastating storms, hail and rain, but everything was done in September. In September we had good weather which allowed us to take advantage of it and have one year success in red and white.
It's not easy to give a straight appearance in terms of performance for this year as yields based on designations / climates vary widely. The only real handicap in 2014 for yields white Meursault. This year we have 117 barrels of white and 417 barrels of red, this is less than last year.
This year we have wines in the Burgundian classic way. Fruity wines, elegant, a little more structured, fine and elegant. This is a vintage was produced very marked by the terroir wines.
The white wines are elegant, precise, beautifully fresh and early rearing shows promise for their future. Finesse and elegance for Pouilly-Fuissé and Saint Romain. Intense fruit and good structure for Meursault and Corton-Charlemagne.
The red Grand Cru have very good level of quality. Beautiful dresses sharp, fine tannins, roundness and balance, length and complexity in elegance. Premiers Crus less revealing their aging potential are equally elegant and distinguished. The three Savigny, Santenay and Auxey-Duresses reveal a beautiful fruity, good balance, levels of acidity and pleasant tannins. For Beaune mixed results. The Volnay are superb, opulent and harmonious. The Pommard are concentrated and beautiful Corton.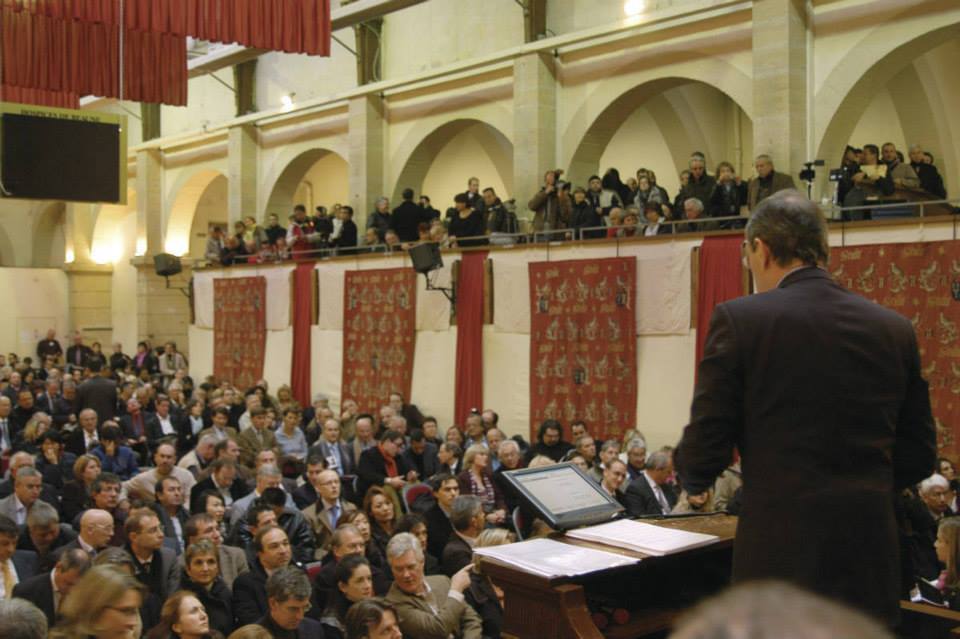 We finally get to have nice quality thanks to September but also to our new facility in the cellars. Through it we no longer crowd the berries. They remain whole when setting tanks that protect the fruit. I saw go by beautiful and healthy grapes at the winery, with thick skins and where necessary a careful sorting. "(Roland Masse, vineyard-manager and winemaker of Domaine des Hospices de Beaune)
"… September has caught up to us but we also had the chance to have a good early flowering in June (from the sun) that brought us a healthy cluster. The two were complementary and have enabled us to have a nice quality wine at the end. "(Anthony Hanson, Master of Wine, Senior Consultant for Christie's)
Focus on associations
The association "Toutes à l'Ecole" was founded in 2006 by Tina Kieffer. This association works in Cambodia, a country still suffering from its former dictatorship (Khmer Rouge), for the education of girls.
In 2006 she opened the "Happy Chandara" school a pilot school located 12 kilometers from Phnom Penh with a mission to take out the girls working in the fields and prostitution to offer them another future in schools. The association assists students until they go to the university for those who choose the conventional path or until they get their first job for those who will turn to a professional curriculum.
The needs are huge in this country and cannot simply provide school education. The association is diversified and offers vaccinations, dental care, heart or eye. Recently, following the monsoon of 2013 the association "Toutes à l'Ecole" rebuilt fifty houses and repaired hundreds of homes in the area.
The "Fondation Imagine" is a research and care focused organization of a new genus of researchers, doctors and patients, with a double goal: to understand and cure genetic diseases. The institute has a 19.000m2 building on the campus of the Necker-Enfants Malades Hospital. It brings together more than 450 researchers, doctors and health workers which aim to bring together the different players around genetic diseases to create synergies and thus promote the transfer of knowledge. The doctors estimated that today there are about 5,000 genetic diseases, most of which are chronic, disabling and I put in the prognosis of the child.
The "Fondation Imagine" in few figures: 21 research laboratories, 32 000 consultations per year, 850 researchers and two centers of clinical investigations.
A little bit of history …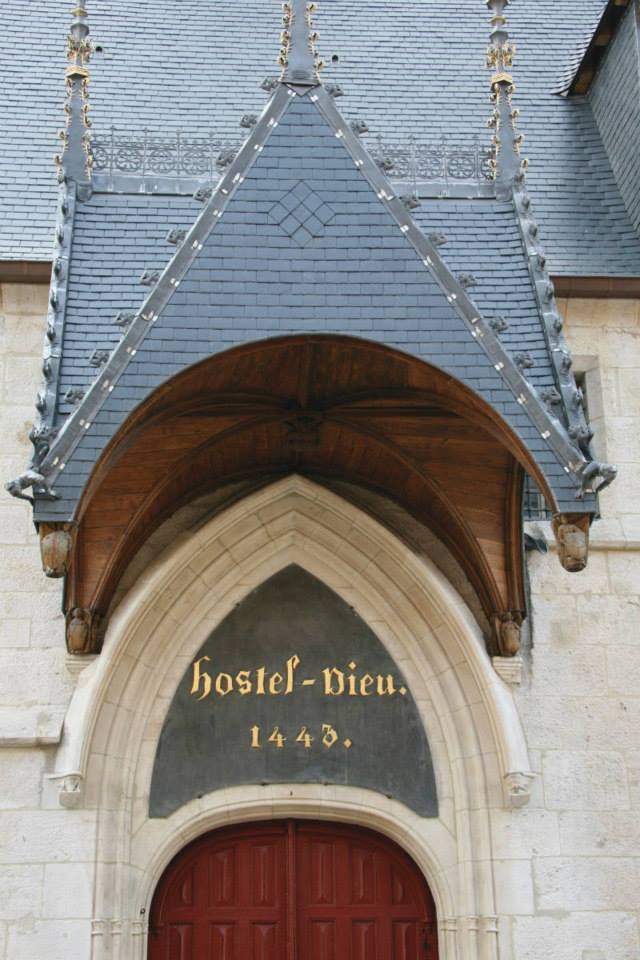 The Hospices de Beaune were founded by Nicolas Rolin (Chancellor of the Duke of Burgundy Philippe Le Bon) and his wife Guigone de Salin at the end of the Hundred Years War and more specifically in 1443, "I, Nicolas Rolin… from now on and forever, found and irrevocably endow, in the town of Beaune, a Hospital for sick and poor people, with a chapel… "(Nicolas Rolin foundation charter of Hôtel-Dieu)
The desire clearly was to create a hospital for care for the poor, the elderly, orphans and the sick at the time. It will open for the first faith in 1452 as the Hotel-Dieu.
In 1457 held the first donation vineyards only real wealth of the time, for the Hospices de Beaune. Guillemette Leverrier donated to the Hospices few ranks of vines of « Beaune, lieu dit Beaumont-le-Franc ». Two years later Jean Plampays and his wife also donated a parcel of vineyard in Beaune.This launch opened the doors for many other gifts that followed.
Regarding the sale of wine and its derivates it has not always been done through the auction system. Since they are not fixed until 1859 sales could take place amicably until the French Revolution and then by submission.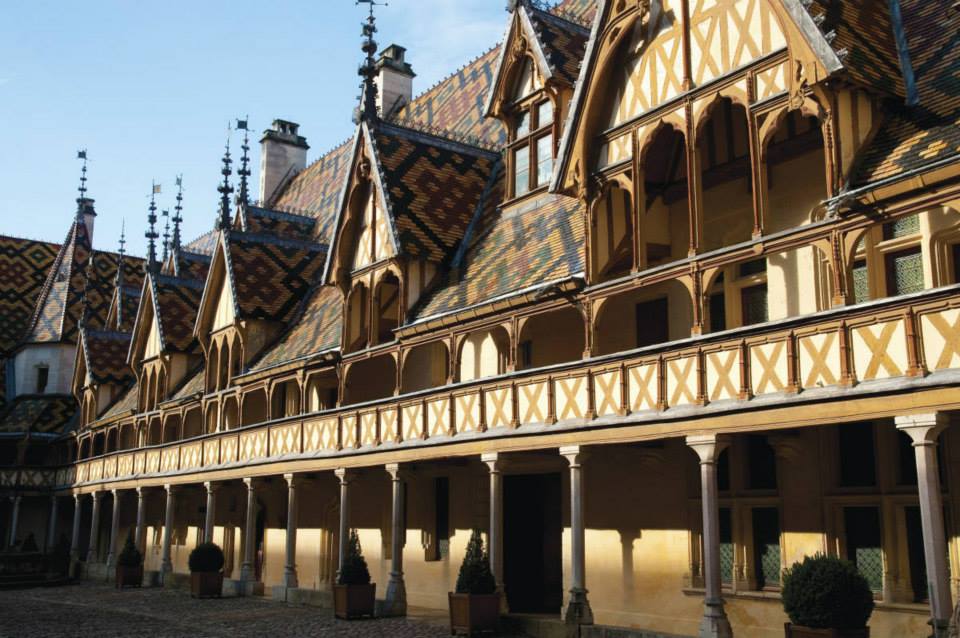 In 1859 auction has definitely established itself as procedure for the sale of wine at the Hospices de Beaune. In 1924 the date is even set at every third Sunday of November. In 2005 wishing ensure a perfect organization and unwilling to trust the organization to industry experts the Hospices de Beaune are turning to the famous auction house Christie's (the first auction house in the world) for the organization of the 145th edition and the following
The 154th Edition of the Hospices de Beaune wine auction offers for sale 534 barrels distributed in 47 cuvées (33 cuvées of red wine and 14 cuvées of white wine)
33 Cuvées of Red Wines :
Auxey-Duresses Premier Cru Les Duresses – Cuvée Boillot
Beaune Premier Cru – Cuvée Nicolas Rolin
Beaune Premier Cru – Cuvée Guigone de Salins
Beaune Premier Cru – Cuvée Rousseau-Deslandes
Beaune Premier Cru – Cuvée des Dames Hospitalières
Beaune Premier Cru – Cuvée Hugues et Louis Bétault
Beaune Premier Cru – Cuvée Brunet
Beaune Premier Cru – Cuvée Maurice Drouhin
Beaune Premier Cru – Cuvée Cyrot-Chaudron
Beaune Premier Cru – Cuvée Clos des Avaux
Beaune-Greves Premier Cru – Cuvée Pierre Floquet
Clos de la Roche Grand Cru – Cuvée Georges Kritter
Clos de la Roche Grand Cru – Cuvée Cyrot-Chaudron
Corton Grand Cru – Cuvée Charlotte Dumay
Corton Grand Cru – Cuvée Docteur Peste
Corton Clos du Roi Grand Cru – Cuvée baronne du Baÿ
Echezeaux Grand Cru – Cuvée Jean-Luc Bissey
Mazis-Chambertin Grand Cru – Cuvée Madeleine Collignon
Monthelie Premier Cru Les Duresses – Cuvée Rameau-Lamarosse
Pernand-Vergelesses Premier Cru – Cuvée Rameau-Lamarosse
Pommard Premier Cru – Cuvée Dames de la Charité
Pommard – Cuvée Raymond Cyrot
Pommard – Cuvée Suzanne Chaudron
Pommard – Cuvée Billardet
Pommard-Epenots Premier Cru – Cuvée Dom Goblet
Santenay – Cuvée Christine Friedberg
Savigny-Les-Beaune Premier Cru – Cuvée Arthur Girard
Savigny-Les-Beaune Premier Cru – Cuvée Forneret
Savigny-Les-Beaune Premier Cru – Cuvée Fouquerand
Volnay Premier Cru – Cuvée Blondeau
Volnay Premier Cru – Cuvée Général Muteau
Volnay-Santenots Premier Cru – Cuvée Jéhan de Massol
Volnay-Santenots Premier Cru – Cuvée Gauvain 
14 Cuvées of white wines :
Batard-Montrachet Grand Cru – Cuvée Dames de Flandres
Corton-Charlemagne Grand Cru – Cuvée François de Salins
Corton-Charlemagne Grand Cru – Cuvée du Roi Soleil
Corton-Vergennes Grand Cru – Cuvée Paul Chanson
Meursault-Porusots Premier Cru – Cuvée Jéhan Humblot
Meursault – Cuvée Loppin
Meursault – Cuvée Goureau
Meursault-Charmes Premier Cru – Cuvée de Bahèzre de Lanlay
Meursault-Charmes Premier Cru – Cuvée Albert Grivault
Meursault-Genevrieres Premier Cru – Cuvée Baudot
Meursault-Genevrieres Premier Cru – Cuvée Philippe Le Bon
Beaune Blanc Premier Cru – Cuvée Suzanne et Raymond
Pouilly-Fuisse – Cuvée Françoise Poisard
Saint-Romain – Cuvée Joseph Menault
Jonathan Choukroun Chicheportiche