Côtes de Bordeaux continue its promotion for exportation
After a very busy start of the year on the promotional plan with 3 trips abroad (Germany, US, Asia), the winemakers of the Union of Côtes de Bordeaux will once again be on all fronts in the second half 2014 to continue their intense promotional program. After their participation in September in Belgium at the event « Eat! Brussels Drink! Bordeaux », many appointments were organized internationally to arrive in Asia and Europe.
Step 1: Asia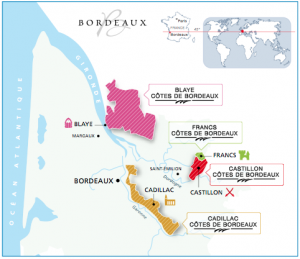 The winemakers of 4 appellations crisscross Hong Kong and China (2nd export market) for 13 major events from October 25 to November 12. First action: 3 masterclass and lunch in Chengdu, Dalian and Guangzhou. Côtes de Bordeaux will then present at the Wine & Dine Festival in Hong Kong (October 30 to November 2) with a collective stand for Chinese consumers. The Union des Côtes de Bordeaux also organize on this occasion a masterclass for an accredited School of Wine and a press breakfast ("5 years already!") where twenty journalists have already registered. Professional training will continue with the Hong Kong Wine Fair, from November 6 to 8, when seven operators Côtes de Bordeaux will be gathered on a collective stand. A masterclass will be hosted by Nelson Chow, Chairman of Hong Kong Sommeliers. At the same time, the Côtes de Bordeaux will participate in the 5th edition of the Festival des Vins de Bordeaux et d'Aquitaine in Wuhan (November 1) proposing two masterclasses. A wine from the Cotes de Bordeaux will also be tasted at the official meal of the creation of the Confrérie des Vins de Bordeaux in Wuhan in the presence of wine producers. Finally, the Asian round will conclude in Shanghai with the participation for the first time at Prowine (from November 12 to 14).
2nd destination: Germany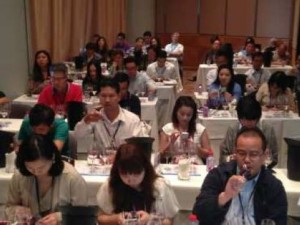 A few months after their arrival and their success in Prowein, Côtes de Bordeaux will be back in Germany in November. This time, the Côtes de Bordeaux will meet professionals of distribution (importers, wholesalers, wine shops), the hotel, restoration as well as sommeliers and journalists from the press professional masterclass organized in Munich (November 3) Cologne (10 November) and Frankfurt (11 November). A new opportunity to strengthen the reputation of the wines of Côtes in this market.
In the end, a dozen operations on three weeks across Asia and Europe! Many initiatives to come for Union des Côtes de Bordeaux to get closer to its goal of increasing its visibility and double its market share in export markets.