VINEXPO HONG KONG: an Asian edition that is full of promises, events and dynamism
The 7th edition of Vinexpo Hong Kong is taking place at the Hong Kong Convention and Exhibition Centre from 24 to 26 May. 1,300 international exhibitors from more than 35 producing countries will be converging on Hong Kong to present an unprecedented selection of wines and spirits for industry professionals to taste.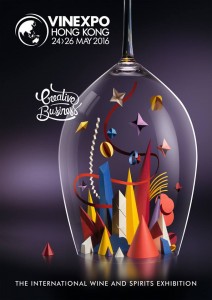 « One to Wine Meetings », a qualified appointments service
To streamline new client acquisition, all exhibitors at Vinexpo Hong Kong will have access to the « One to Wine Meetings » service to match them with business opportunities. The « One to Wine Meetings » platform offers scheduled, targeted and qualified appointments – a major commercial advantage in penetrating markets and boosting the ROI for attending the show. Tried and tested at Vinexpo Bordeaux 2015, this totally free service will be welcomed by exhibitors and visitors alike as it is such a time-saver!
Vinexpo Hong Kong, an unmissable trade event
The only truly international wines and spirits event in Asia, Vinexpo Hong Kong has become one of the leading trade events to map the trends and developments across all Asian markets.
France remains the number one wine supplier to Asian countries with 27.24 million cases imported in 2014, so understandably has a strong presence at the show: it will occupy the whole of Level 3, an impressive 43% of the total exhibition area. The full range of France's wine output will be represented through all its appellations, from Bourgogne to the Loire region, from Bordeaux to Provence, via Alsace and the Champagne region. Visitors will also notice stands showcasing French spirits such as Cognac and Armagnac.
Italy is the world's biggest exporter, yet only fifth to Asia, so this year it will enjoy special status as guest of honour. Italy's main players in wine production are seizing this opportunity to come and present the full range of Italian wines and spirits. Buyers will be able to meet Italian wine producers, to taste indigenous grape varieties, to discover italian wine regions and to taste wines and spirits from this amazing country.
There will be even more New World wines at Vinexpo Hong Kong 2016: this segment is steadily increasing its market share in Asia. The major Californian, Australian and South American brands will be with us once again, alongside the rising stars from New York, Oregon, Washington State, New Zealand, Bulgaria, Slovakia, the Czech Republic and even Mauritius.
China is represented by an increasing number of producers. Already the world's 8th biggest grape producer, China will be showcasing a selection of its wines destined for the export market.
Vinexpo Hong Kong 2016 showcasing world's premier wine producers with more than 60 dynamic events
Over 60 exclusive wine & spirit related events are underlining the expo's renown as a key event in the trade calendar for keeping up to speed with latest trends and developments. Find the full program on this link.