Vinexpo 2017 will take place over 4 days !
Vinexpo Bordeaux 2017 : Save The Date !
Vinexpo 2017, the international wine and spirits event, will welcome us from Sunday 18th to Wednesday 21st of June 2017.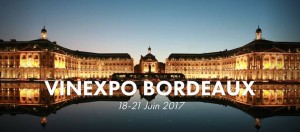 Starting in 2017, Vinexpo Bordeaux will last 4 instead of the traditional 5 days, in order to provide a more contemporary event format in line with the needs of wine and spirits professionals.
On the event's schedule: business meetings, tastings, conferences, meetings and some « lovely surprises » which will be unveiled in the upcoming months!
You'll be able to read more about Vinexpo 2017 in next months on Vertdevin!