The Hong Kong Wine & Spirits Fair Uncorks Asian Opportunities
A successful 2016 edition!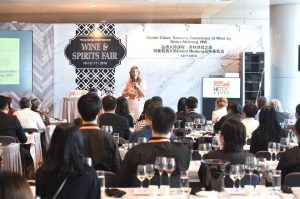 The ninth Hong Kong International Wine & Spirits Fair, organised by the Hong Kong Trade Development Council (HKTDC), concluded on Saturday (12 November). Held at the Hong Kong Convention and Exhibition Centre (HKCEC) from 10 to 12 November, the fair gathered more than 1,060 exhibitors from 37 countries and regions to showcase a sparkling range of global wine offerings.
The three-day fair attracted close to 20,000 buyers from 68 countries and regions. Attendance from individual countries recorded encouraging growth including the Chinese mainland, Japan and Taiwan. The final day of the fair (12 November) was open to public visitors and attracted nearly 27,000 wine lovers. The blend of trade and public participants at the fair created a vibrant platform for doing business.
"As a duty-free wine port, Hong Kong is seen as an efficient and convenient trading and distribution centre for the region. With growing demand for wine and wine-related products and services in Asia, Hong Kong has fully grasped the opportunities brought about by the trend. The Wine & Spirits Fair has also become an important industry promotion and trading platform for wine exhibitors to expand their business into the Chinese mainland and Asian markets." (Benjamin Chau, Deputy Executive Director, HKTDC)
French and Italian wines in vogue at the fair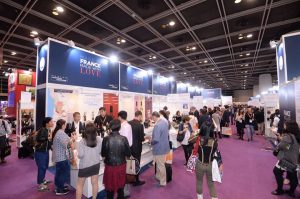 Michel Bettane, Chairman, Bettane+Desseauve, was one of the speakers at the Wine Industry Conference. "This year we have once again organised a number of French exhibitors to showcase a wide range of French wines, and met with buyers and importers, particularly those from Asia. The fair helped us meet clients from the Chinese mainland and explore the huge mainland market. On the first day of the fair, we had already met with a lot of buyers and received a great response. "
"A Chinese buyer from Shanghai confirmed an order to purchase 13,000 bottles of wine. We have also established initial contact with other buyers from Hong Kong, the Chinese mainland, India and Japan." (Norbert Gaiola, Director General of Cave De Saint Chinian)
"A number of buyers from Hong Kong, the Chinese mainland and Vietnam expressed strong interest in our Italian wine Amarone. We've got about 100 new contacts so far through the exhibition and will be following up with the order from Chinese mainland customer." (Attilia Merzari, Brand Ambassador – Asian Market, Tenuta Sant'Antonio)
Optimistic outlook among Asian buyers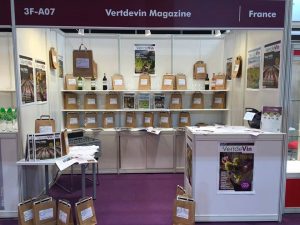 Despite global economic uncertainty, the Hong Kong wine market is still vibrant and buyers at the fair maintained an optimistic outlook. "We have met with an Australian beer supplier and will have further negotiations with them. We expect to order a 20-foot shipping container of beer. The fair also features buyers with a wide range of wines. The number of French and Italian exhibitors is the largest among all the exhibiting countries, which is very impressive to me." (Ashley Wang, Category Supervisor, Wellcome Taiwan Company Ltd.)
"I have found some German wines, baijiu and distilled Chinese liquor from the Chinese mainland. A series of business matching meetings have been arranged with five exhibitors selling Japanese sake. I will visit the fair next year." (Park Hyeong Jin, Buyer, Hyundai Department Store Co., Ltd, Korea)
"We are looking for wine and sake. We are interested in placing an order of 2,000 to 3,000 cartons of wine from the Bordeaux supplier Joanne." (Zhang Shi Wei, Chairman, Jilin Morton Trade Co, Ltd., Chinese mainland importer & distributor)
Slovenia taps global markets through Hong Kong
This year's Hong Kong Wine & Spirits Fair welcomed the Ministry of Agriculture, Forestry and Food of the Republic of Slovenia to set up a pavilion at the event for the first time, showcasing quality wines from 18 local wineries. Dejan Židan, Deputy Prime Minister and Minister of Agriculture, Forestry and Food of the Republic of Slovenia, attended the fair. He said that Slovenia is a unique wine region in Europe that produces a diversity of wines with their own characteristics, and he wants to develop the country's wine industry and help wineries promote products to global buyers. "Slovenia has been expanding its economic ties over the last two years with China through the '16+1' cooperation framework, an initiative aimed at deepening the exchange and relationships between the Chinese mainland and 16 European countries. This fair is a truly international event. We are taking advantage of the Hong Kong fair to reach out to more buyers and promote Slovenian wines internationally," (Mr Židan)