The Château Filhot launches a new cuvée: Sauternes Gold Reserve
In this times of economic crisis it's always good to remember that we can find gold closer to home … drinking gold in bottle!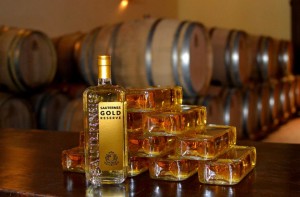 Since a couple of weeks the Château Filhot, Grand Cru Classé of Sauternes, innovated and released a new cuvée: Gold Reserve. This wine is made from a blend of Semillon (60%) and Sauvignon Blanc (40%), in vintage 2010. The wine was created to "objectively emphasize the fruitiness, the balance and the gourmandise."
The name "Gold" is a nod to the fact color of the wine but also to the glass bottle made with a shape of a gold ingot.
A nice wine to share with friends or family, as an aperitif or to pair with dishes such as roasted poultry, blue cheeses, desserts or why not with Sushi! Serve fresh!