The 2015 HKTDC Hong Kong International Wine & Spirits Fair, the Asia's Premier Wine Event was a huge success !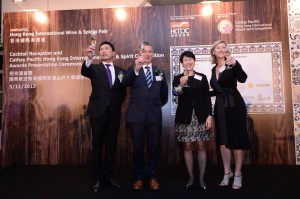 The eighth Hong Kong International Wine & Spirits Fair, organised by the Hong Kong Trade Development Council (HKTDC), gathered more than 1,060 exhibitors from 32 countries and regions at the Hong Kong Convention and Exhibition Centre (HKCEC) from 5 to 7 November, the fair
The three-day Wine & Spirits Fair drew more than 20,000 trade buyers from 75 countries and regions, up 2.4 per cent from last year. Encouraging growth in buyer numbers was recorded for individual countries and regions including France, Korea, Singapore, Taiwan and Macau. The final day of the fair (7 November) was open to the public, and attracted close to 30,000 wine lovers, creating a vibrant atmosphere in the fairground.
New customs agreement consolidates Hong Kong's wine trading hub status
John Tsang, Financial Secretary of the Hong Kong SAR Government, officiated at the opening ceremony of the Wine & Spirits Fair. He used the occasion to announce that the immediate customs clearance arrangement for wines imported into the mainland via Hong Kong is now extended to all customs districts in Beijing, Tianjin, Shanghai, Guangzhou and Shenzhen. This means that wines from all over the world would be entitled to immediate clearance by Mainland Customs when shipped by qualified Hong Kong wine merchants to customs districts covered by the arrangement.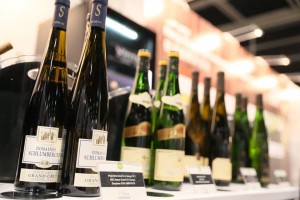 "Ever since the Hong Kong SAR Government removed wine duties and instituted special clearance measures under CEPA (Closer Economic Partnership Arrangement) in 2008, Hong Kong has developed into a wine trading and distribution centre for the region and the import gateway of wines into the mainland in particular. Now that this facilitation measure designed specifically for Hong Kong is extended from Guangzhou and Shenzhen to the customs districts of Beijing, Shanghai and Tianjin, more wine merchants from around the world would forge into the North China market through Hong Kong, thus further consolidating Hong Kong's position as a wine trading hub." (Benjamin Chau, Deputy Executive Director of the HKTDC)
Wine merchants eye the Asian market
The Hong Kong International Wine & Spirits Fair provides an ideal networking and exchange platform for the industry, and growing numbers of exhibitors from around the world are using Hong Kong to extend their business into the increasingly important Asian markets. Portugal, the partner country for this year's fair, ranks among the world's top 10 wine producing countries. In recent years, Portuguese wine merchants have set up more business operations and distribution networks in Hong Kong to use the city as a springboard to tap into the mainland and Asia Pacific markets. More than 40 exhibitors from Portugal took part in this year's fair, showcasing over 500 selected wines from Portuguese wineries. Nuno Vale, Market Director of ViniPortugal, the inter-professional association of the Portuguese wine industry, noted that Portuguese wines are very diversified and have attracted more demand in the mainland and other Asian markets in recent years. The Wine Fair has caught the attention of global wine merchants and is not only an important gateway to the Asian markets, but also a premier promotion platform through which buyers learn more about the characteristics of Portuguese wines.
Whisky continues to hit the spot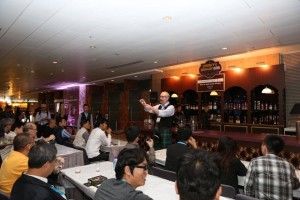 Hong Kong's whisky imports last year amounted to around HK$590 million, an increase of 30 per cent from 2013; exports reached HK$480 million, comparable to 2013, likely attributable to growing consumption in Hong Kong. Whisky continues to be sought after by buyers at the Wine Fair. Florence Luk of local exhibitor Asia Euro Wines & Spirits, pointed out that consumer demand for quality whiskies has been growing steadily in recent years, so much so that a whisky trend has formed. This year, her company introduced the 200th anniversary edition of the single-malt Laphroaig Scotch whisky at the fair. It was very popular with buyers from the mainland, Macau and Japan and received confirmed orders on site.
Japan External Trade Organization (JETRO) is making a strong presence at the fair again, bringing together 26 wineries, six wine companies and two industry associations to present a diverse range of products from sake and shochu to Japanese whisky and fruit liquors. Ryoichi Ito, Director General of JETRO Hong Kong, said: "The buyers' response has been excellent. The amount of business concluded by our exhibitors in the first day of exhibition has already tripled last year's results. This fair creates a crucial trading platform for us to expand our presence throughout Asia."
French and Italian wines are highly sought after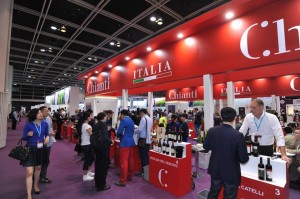 Bettane+Desseauve and Sopexa have organised an impressive pavilion for French wines again this year, showcasing more than 120 wineries and wine companies. Michel Bettane, France, said: "Consumers in this part of the world are getting more and more knowledgeable about wines and looking for good quality products. This is an encouraging trend. We've met with many potential customers from different markets such as Japan, Indonesia, Thailand and Singapore. Our participating wineries are very happy with the fair and some of them have already concluded sales with buyers."
Attwood Import Export Co. Ltd, one of the largest distributors of premium wine and spirits in Cambodia, placed orders for 600 bottles of Italian red wine, 300 bottles of Italian sweet wine and 600 bottles of Portuguese port wine at the fair. "The results are encouraging this year," Lity Yap, Senior Advisor to Chairman, said.
Chen Hehua, General Manager of Zhuhai Gaobo Trading Co. Ltd, a wine importer, distributor and wholesaler from the Chinese mainland, said: "We have found several new suppliers from Italy for Moscato wine and Amarone red wine. We are also in talks with a Hong Kong-based company who distribute the niche Medeira wine from Portugal and we are interested in placing an order for 100 cases. We will definitely conclude some deals soon."
The Department of Agriculture and Food, Western Australia (DAFWA) and HKTDC signed a Memorandum of Understanding (MOU) on the first day of the fair. The MOU strengthens collaboration between the two organisations in all trade promotion aspects, especially in wine and food sectors. It also aims at encouraging more enterprises from Western Australia to leverage on the HKTDC's exhibition platform to promote their products to overseas markets. The DAFWA organised its first ever pavilion in the fair this year, presenting ten wine enterprises from Western Australia.
©HKTDC