"Le Beaujolais Nouveau est arrivé!"
November 20, 2014 at midnight Beaujolais Nouveau celebrations will be launched !
November 20 at midnight festivities will be launched. Traditionally Beaujolais Nouveau is enjoyed every third Thursday of November at midnight. As the years and marketing campaigns Beaujolais Nouveau festivities took on an international dimension. This year more than 25 countries are expected to celebrate the arrival of this wine. Bottles of this wine will be imported in more than 100 countries. This year's Beaujolais Nouveau will even, according to some information, offered on plane of Japan Airlines. The largest consumers after France are Japan, United States, Germany and Belgium.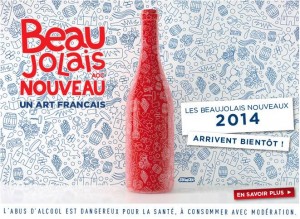 This year Inter Beaujolais asked the artist SKWAK to illustrate the new marketing campaign for Beaujolais Nouveau. This French illustrator is a rising star who has gained international recognition through his work for brands such as Google, Microsoft, Facebook and Adidas.
After visiting Beaujolais, SKWAK drew inspiration from his impressions to offer his highly individual interpretation of the world of Beaujolais Nouveau. The fruit of his creativity is a unique presentation given centre stage on the poster and echoed on the 2014 promotional material diffused both in France and in the 110 other countries where Beaujolais Nouveau is consumed.
After the worlds of ready-to-wear and high fashion, this campaign pays tribute once again to French skills and creativity.
In an iconography which is a mix of French tradition and contemporary references, humour and pride, this striking image rich in signification is a celebration of the French arts. The colours of the French flag and the graphics with their clear link to wine carry a message which is simple, clear and unequivocal: Beaujolais Nouveau, proud of its roots, assumes a continuous process of modernisation.
What is Beaujolais Nouveau wine ?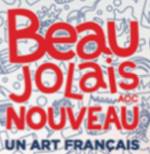 Beaujolais Nouveau is a primeur wine produced in 12 wine appellations of Beaujolais. It is almost exclusively produced from the Gamay Noir grape. Usually this wine is unfiltered of just little bit. So you can find pulp of grapes in your glass. They have a bright color. The nose and mouth are very fruity, slightly tannic and gourmand. They have to be enjoyed fresh (around 10-11° C).
Contrary to popular belief this wine can be enjoyed after the next few days, by example for Chrismas.
For those who want to pair the Beaujolais Nouveau you can drink this wine with :
Charcuteries
Lyon Salad
A goat cheese, a Camembert or a Cantal cheese
Bluefin tuna sushis
Pears in wine (dessert)
Lamprey in a Bordeaux sauce
Pot roast
Garbure
Roasted Chestnuts
…
A few key figures to understand the Beaujolais:
Total area of vineyards: 16,572 hectares
Grapes: Gamay Black
Production in 2013: 695,385 hl
Number of appellation: 12
Crus of Beaujolais: Brouilly, Chénas, Chiroubles, Côte de Brouilly, Fleurie, Juliénas, Morgon, Moulin-à-Vent, Régnié, Saint-Amour,Beaujolais Villages and Beaujolais
The players: about 3000 winegrowers, 12 cooperatives and 169 wine-traders
Average size of farms: 9.8 hectares
Returns naming allowed: 52 hl/ha A.O.C crus du Beaujolais ; 52 hl/ha A.O.C beaujolais-villages ; 52 hl/ha A.O.C beaujolais
Volumes traded Beaujolais Nouveau (2013 figures): 31 million bottles (13 million bottles on the export market)
Enjoy tasting! *
(* Consume with moderation)