Ancient cellar existing since 1619!
Relais San Maurizio is a former Cistercian monastery located in the heart of Piemonte wine region. Alciati family has been a pioneer highlighting typical recipes and ingredients produced by local farmers. Today, Andrea Alciati is running the prestigious property with its two restaurant and an impressive wine cellar featuring more than 2800 jewels from all over the world.
Erika Montovan, VertdeVin: Which dish in your restaurant is a must-try and should be tried by every customer?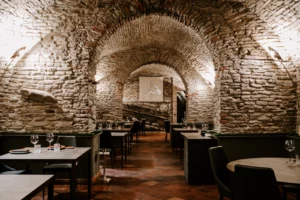 Andrea Alciati, Manager and Sommelier: My mother Lidia's "Agnolotti del Plin al tovagliolo" are certainly the most representative dish of the restaurant's and an integral part of my family's history. Defined by the Los Angeles Times as 'Agnolotti Queen', they are a reference point for Piedmontese chefs, with a solid and thin pasta and a filling that is made of three meats: pork, rabbit and veal. They can be eaten unseasoned, al tovagliolo, or with a meat sauce or in broth.
VertdeVin: Which wine do you recommend to accompany this dish?
A.A.: An elegant and deep wine, a Barbaresco.
VertdeVin: Which wines, apart from the local gems, are most appreciated by your customers?
A.A.: Certainly, given a more international clientele, Champagne, Bourgogne wines, both red and white, and Super Tuscans are on demand.
VertdeVin: The most unexpected food and wine pairing you have ever served?
A.A.: A sweet white, made from Moscato, a grape grown right on the hills surrounding the Relais San Maurizio; with its freshness and great ageing potential, I suggest it to be aged for at least 10 years and served with cheeses.
Photo credit: Relais San Maurizio