Nizza wines are only made with grapes come from the best exposures and territories of 18 municipalities around Nizza Monferrato.
Barbera, despite being the most widespread grape of Piemonte, always stays in the shadow of its more famous neighbour, the mighty Nebbiolo. Until recently, Barbera was considered an everyday drinking wine and did not receive much attention from international critics and wine connoisseurs. Though today the situation is changing and we see more and more great Barberas on the market.
One of the best terroirs for Barbera lies just south of the town of Asti. Until 2014, the wines from this area were released under the denomination of Barbera d'Asti Superiore Nizza. The separate DOCG was created in 2014 and since then Nizza DOCG can be found on the labels. At the moment the Association of Nizza producers unites 69 wineries and this number is steadily growing.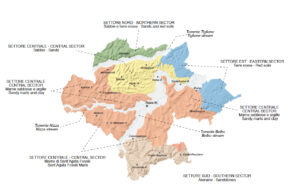 The 18 communes eligible for the newly born DOCG are located on hills ranging between 150 and 350 meters. In 2020 there were around 244 hectares of vineyards classified. This area is famous not only for its wine and food heritage, but also for its cultural offerings and numerous excursions to immerse oneself in nature. Nizza Monferrato is a small, picturesque town, stretching between the Belbo stream and the Rio Nizza in the heart of Monferrato. The town is characterised by a typical hilly landscape, in an area with a mild climate that is particularly favourable to vine cultivation. In the historic centre there are some historical buildings of particular interest. The town is topped by the ancient bell tower of the Town Hall, known by the locals as 'el Campanòn'. Since 2004, the tower can be visited all the way to the top, from where opens a unique panorama of the surrounding area.
The rules of the Nizza appellation are stricter than those of Barbera d'Asti Superiore, the maximum yields are lower, and the ageing times are longer. The wines should be 100% Barbera and must be aged in barrel for 6 months, and 18 months in total before release. For Riservas the periods are 12 months and 30 months, respectively.
The classic Nizza DOCG wines show a dark fruit profile on the nose with notes of black cherries, blackcurrants, plums, and mulberries, as well as characteristic nuances of oak ageing – cinnamon, cloves, and a hint of nutmeg. They reveal high density, fulness, and roundness on the palate, refreshing acidity, and juicy liveliness of Barbera. These are multi-layered, complex wines that mature beautifully but are already accessible after a few years of ageing.
Photos: L'associazione dei Produttori del Nizza
https://www.ilnizza.net/