Moët Hennessy celebrates an extraordinary challenge by becoming Official Partner of Solar Impulse 2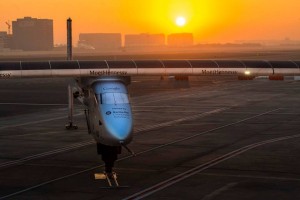 Moët Hennessy announces its commitment to 2 years, as an official partner of the Solar Impulse plane 2 which will leave Abu Dhabi on 1st March 2015 to try the first world tour with solar energy.
"Celebrate Sustainability"
By committing to Solar Impulse and its teams, Moët Hennessy marks its support for the values of the conquest and transcendence, and recognizes excellence and innovation as two key drivers of world progress.
More information about Solar Impulse
Solar Impulse is the only airplane, unlimited autonomy, capable of flying day and night without fuel. After 8 world records set by the prototype, SI2 attempt on March 1, 2015 (at the earliest) a world tour in 11 steps. It will be led by the Swiss Bertrand Piccard, initiator and President and André Borschberg, co-founder and CEO, who with their team wish to demonstrate how pioneering spirit, innovation and clean technologies can change the world.
The Moët Hennessy group and its 21 prestigious companies based their development on the pioneering spirit and the conquest of new territories. Thus, the first shipment of Champagne took place in Russia in 1780, with Veuve Clicquot. In 1787, two years before the Revolution, the export of cognac began in the United States with Hennessy then in China in 1859. Today Moët Hennessy exports 95% of its products and is the first producer and first exporter of Wines and Spirits luxury in the world.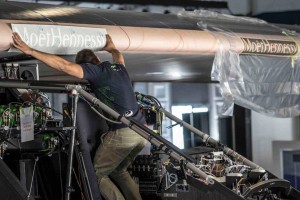 Support Solar Impulse is also celebrating an important step towards a better world. The valuation of direct opportunities offered by renewable energy is a message Moët Hennessy wants to help promote. All Moët Hennessy products come from the earth, and the group has a proactive policy on 7 fronts of progress: sustainable agriculture, energy, water and waste, green waste, green design, green supply chain and selection of responsible suppliers.
Christophe Navarre, President Moët Hennessy CEO says "We immediately felt a very strong resonance with what we are and what we want to be tomorrow. We like challenges, we have the spirit of conquest and success of our house tells the nobility of the human adventure. We know taking risks and prefer to always think that nothing is impossible. A message that we will take over the world on the way to the plane. India, China, the United States are key markets for us and in which we will be proud to contribute to the development of renewable energies."
Provide an emotional dimension to the challenge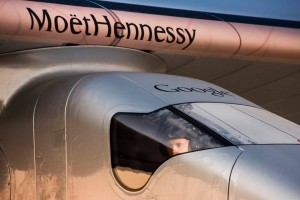 At each step, will Moët Hennessy alongside Solar Impulse team to celebrate each of the identified challenges and accomplishments they represent. Usability of spaces, MoëtHennessy Lounges will welcome the friends and supporters of Solar Impulse and personalities who will follow the project closely. These spaces will be the ambassadors of our lifestyle, driven by product excellence houses of Moët Hennessy.
This adventure will be as that of 6000 employees Moët Hennessy distributed worldwide through a digital platform allowing them to live the project from within. This platform will also be accessible via the Internet to anyone who wants to follow live this adventure and return to the content produced by Solar Impulse.
For more information please check the Solar Impulse'website.