Duckhorn Wine Company has been sold to an other a private equity firm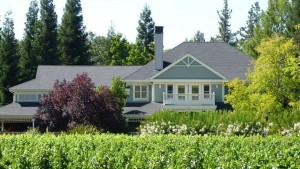 Duckhorn Wine Company (Napa, Sonoma) and TSG Consumer Partners, a San Francisco-based strategic equity investor in consumer brands, announced today that TSG will acquire Duckhorn from GI Partners (who also is a private equity group). Financial terms of the transaction were not disclosed. However the transaction is expected to close in 45 days.
The transaction includes all six Duckhorn Wine Company wineries: Duckhorn Vineyards, Goldeneye, Paraduxx, Migration, Decoy and Canvasback and their corresponding properties, along with more than 600 acres of estate vineyards, including the world famous Three Palms Vineyard in California's Napa Valley. All employees are being retained, including the winemakers for all six wineries, and the company will continue to be guided by President and CEO Alex Ryan, who has been with Duckhorn since 1988. Dan and Margaret Duckhorn, who founded the winery in 1976, will also remain involved. (Read more about the story…)

"GI has been an ideal partner and we look forward to working with TSG.
It recognizes and values how unique we are in the North American wine industry and is committed to preserving the strong culture that defines us. At the same time, we share an exciting vision for our company's future. By combining their consumer expertise and global reach with our luxury wine market proficiency and relentless focus on quality, we can ensure that our next 40 years will be as exceptional as our first four decades." (Alex Ryan, President and CEO od Duckhorn Wine Company).
"Duckhorn Wine Company is one of the most respected wine portfolios in the world.
Duckhorn boasts six wineries that are all recognized as benchmarks for their regions and categories, and a world-class estate program spanning California's Napa Valley, Sonoma County, and Anderson Valley, and Washington State's Red Mountain. We are thrilled by this incredible opportunity to partner with and invest in a company as dynamic and well-run as Duckhorn, a rarity in any industry. Our goal is to support the company's vision and to use our consumer expertise to bring the Duckhorn portfolio of wines to an even broader global audience." (TSG President, Jamie O'Hara)