Death of Gérard Basset, Best Sommelier of the World 2010
The world of Sommellerie, the world of wine and more generally the world of gastronomy have lost one of its greatest and most talented ambassadors.
It is with a great sadness that we learned this afternoon the death of Gérard Basset, at the age of 61. Great wine man but always full of humility, he won the title of Best Sommelier of the World 2010 in Siantago (Chile) in 2010 against Paolo Basso and David Biraud.
Born in France, in the Loire Valley, he started in the cuisine sector (training as a chef) before starting a career as a sommelier. He trained alongside Danielle Carré Cartal, the first woman best sommelier in France. Success came very quickly and he obtained numerous awards (Best British Sommelier, Master of Wine, Master Sommelier, Best Sommerlier of Europe…) and a growing reputation among professionals in the sector.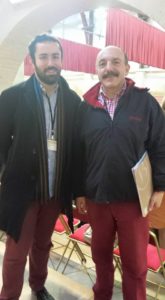 In the 80′, after a trip to Liverpool to support his favourite Football (soccer) team he met his wife and chose to live in the United Kingdom. Mr. Gérard Basset was also a talended entrepreneur, in particular through the launch of Hôtel du Vin as well as the Hôtel TerraVina (Southampton) with his wife Nina.
In 2011, Gérard Basset was promoted to the rank of Officer in the Order of the British Empire (OBE) by Princess Anne, at Windsor Castle.
For years now, he was fighting bravely against an esophageal cancer. Our thoughts go to his family and to all the wine professionals who had the chance to meet him. Thank you Mr. Basset! We will open a good wine to your honour!
You can express your messages of support, condolences on this email address: inmemoriam@culturalcomms.co.uk