Baghera Wines first exclusive auction "Burgundies, whiskies"
Dday-3 before Baghera Wines first exclusive auction "Burgundies, whiskies" on December 6th in Geneva
A new wine experts office based in Geneva, Baghera Wines is starting off with an unprecedented inaugural auction dedicated to the great wines of Burgundy and an inspired selection of whiskies for a total low sale estimate of CHF 3.4m (3 131 502,00€).
Baghera Wines was founded in 2015 by three passionate experts who acquired their credentials at Christie's and chose to create a Geneva-based consulting company to offer « inspired and remarkable auctions to their clientele and to reestablish the spirit of merriment, pleasure and conviviality at the heart of the universe of outstanding wines ».
Michael Ganne, Julie Carpentier and Emmanuel Mercé teamed up with a view to provide high-level, comprehensive guidance and consulting on fine wines, as well as tailored services to help build up, enhance and magnify their clientele's wine collections.
Great Burgundy wines…
This will be the largest, most comprehensive sale ever held in Europe around great Burgundy wines, among the most wanted in the world: no less than 600 lots together with 60 Burgundy producers from the most exclusive domains, amongst which Henri Jayer and Romanée-Conti, Coche-Dury, Leroy and Liger-Belair will be presented. At the very beginning of the auction, the connoisseurs will notably find 6 bottles of Richebourg Grand Cru 1978 from the famous Henri Jayer domain estimated between CHF 120,000 (110 523,60€) and CHF 180,000 (165 785,40€).
"Our catalogue is an audacious selection of rare wines and is meant as a tribute to Burgundy with a view to propose a more sensitive approach of wine auctions. The first lot to be offered for sale is in fact one of the greatest wines on the planet" (Executive Director of Baghera Wines, Michael Ganne)
Great Whiskies…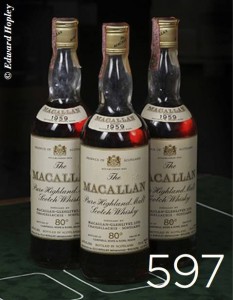 An inspired selection of high-end Japanese and Scottish whiskies will also be presented such as the rare Ichiro's malt Card from Hanyu, proposed for auction for the first time ever as a full collection of 58 bottles, an estimated collection ranging between CHF 300,000 (276 309,00€) and CHF 400,000 (368 412,00€).
The "Burgundies, Whiskies" auction will take place Sunday, 6th of December 2015 at 10am and 2pm in the Maison Fert's new premises in Geneva: Espace FERT Barton 7 (Rue Barton, 7 – 1201 Geneva – Switzerland).
In addition, on this link there is a dedicated datasheet presenting the most valued and coveted lots selected by Baghera Wines for this exceptional inaugural auction. To view the whole catalogue of the auction please visit the website.
©Baghera Wines