8th EDITION of « BLAYE AU COMPTOIR BORDEAUX »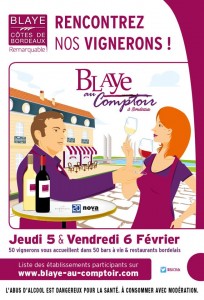 On February 5th and 6th 2015 the name Blaye Côtes de Bordeaux is going back to Bordeaux to meet costumers in the 8th edition of Blaye Au Comptoir Bordeaux.
During the event fifty winemakers of Blaye and some Restaurants or WineShops will join forces to,highlight the quality and diversity of the wines of Blaye. In a restaurant, a wine bar, or a foodtruck and for the first time a wine shop. Blaye wines will provide appointments to all wine lovers to share with them moments of conviviality, discovery, food appreciation and sharing.
The program
For 2 days, winemakers will settle in 50 institutions partners in the operation to meet the consumers and offer them a drink to taste first. A formula that appeals to both customers and winemakers, as Mickaël Rouyer, Director of the appellation.
"Blaye au Comptoir is a moment of meeting and sharing by excellence. For some, it is an opportunity to present their work and expertise, for others, it is the way to discover the men and women behind the label. It is this meeting that the force of the operation. »
Do not miss out of the event, "Blaye au comptoir" will also be available on the website dedicated to it, and on twitter with the hashtag #BACBdx to follow the adventures of Blaye growers in live. Last year, 60,000 glasses were served at the event.
Wine shops, new partners of the operation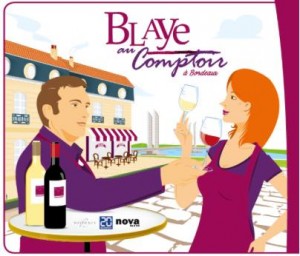 After foodtrucks joined the adventure 2014 "Blaye au Comptoir", the event will be extended to this 8th edition to a new network: wine shops. On the same principle as in other establishments, wine merchants and wine growers offer a tasting for their customers. The opportunity is to highlight the wines of the appellation on a new distribution network.
"Blaye Au Comptoir is an operation that works very well with consumers for years. Inviting wine merchants to take part in the event, we want to reach a different target, which has many advantages for our winemakers. Wine merchants are true prescribers to their customers. Blaye au comptoir represents a real opportunity to develop the image and reputation of the appellation on this circuit" reports Cendrine Caillier, Blaye Communication Manager.
You can find the list of event partners (restaurants, wine shops) and the wines that you can discover on this link. Please note this link is regularly updated, so be sure to return regularly.
©CôtesdeBordeaux