2015 Vintage: The Beaujolais Nouveaux have arrived !
New vintage and new communication strategy for Beaujolais Nouveaux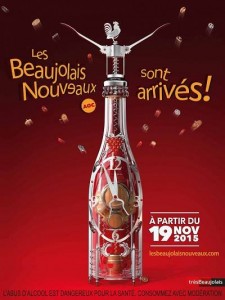 « It has arrived! », just a few words meaning the launch of Beaujolais Nouveaux festivities. Traditionally Beaujolais Nouveaux are enjoyed every third Thursday of November at midnight (November 19th). As the years and marketing campaigns Beaujolais Nouveaux festivities took on an international dimension. This year wine lovers from more than 110 countries will be celebrate the arrival of this Nouveau wine.
A new vintage but also a marketing campaign
The Beaujolais wine trade organisation (Inter-Beaujolais) is continuing its revitalisation of the image of Beaujolais and Beaujolais Villages Nouveaux by once more highlighting French skills and creativity. « The new marketing campaign takes its inspiration from the world of fine clock and watchmaking : Attention to detail, precision and a unique expertise that combines both the modern and the traditional… there are many parallels with the new Beaujolais wines. Just like a precious timepiece, they take their time, mark time, arrive with impeccable timing, to give pleasure every time… and the Nouveaux are just perfect for wine o'clock! »
« The Beaujolais Nouveaux have arrived » is the new headline slogan that will appear in all communication media. It's no longueur « Beaujolais Nouveau » but « Les Beaujolais NouveauX ». It's a simple but effective way of illustrating the diversity of the Beaujolais and Beaujolais Villages Nouveaux
A website entirely dedicated to Beaujolais Nouveaux (www.lesbeaujolaisnouveaux.com) has been created for the first time. This website is rich in content, videos, articles, recipes, tips, etc. The objective is to be an alternative source of information but also, and most of all, to sweep away preconceptions and create desire!
A special Beaujolais Nouveaux event in Paris on the big day. To uphold their tradition, a delegation of winegrowers will come up to Paris on Thursday 19th November to personally present this new vintage.
In addition, as part of an exclusive operation in partnership with the Professional Wine Boutiques Union (Syndicat des Cavistes Professionnels) 1000 wine shops have received an 'advent' calendar to display in their windows to follow the countdown to the big day.
2015 Vintage : Good weather conditions
« This year intense heat and historic levels of sunshine allowed the Beaujolais vineyards to maintain sanitary conditions that were practically perfect.
The grapes finished ripening in excellent conditions, thanks notably to intermittent showers in August. The grape pickers were therefore able to harvest superbly ripe little berries of exceptional quality, with firm, thick skins.
Complete phenolic maturity was attained and the degrees are naturally high. Such remarkable maturities have not been seen within living memory in Beaujolais.
It is nevertheless a vintage that has remained beautifully fresh. The first vats to finish their alcoholic fermentation are showing lovely full fruit aromas, ripe but never cooked.
The only slightly disappointing aspect of 2015 is the volume. The high temperatures, and more especially the lack of rain in the first half of the year resulted in low yields. The total harvest should therefore be in the order of 600 000hl in 2015, compared to around 756 000 hl in 2014. » (Inter-Beaujolais)
How are Beaujolais Nouveaux 2015 ?
« The richness of the 2015 wines explodes in the mouth, with immense smoothness and generosity without ever losing precious balance. The wines are extraordinarily rich and opulent with solid tannic structures foretokening a vintage for laying down. The tannins are firm but always silky and full of finesse. Wines with perfect balance between acidity, fruit and tannins… all the conditions are ripe for 2015 to be a truly great vintage in Beaujolais. 
The wines are of great intensity and depth of colour, with 2015 showing the highest colour potential since 2002.
In terms of colour and structure, notably, 2015 reminds us of 2009 and for some of our elders, 1947: two magnificent vintages of proven ageing potential. » (Inter-Beaujolais)
What are Beaujolais Nouveaux wines ?
Beaujolais Nouveaux are primeurs wines produced in 2 wine appellations of Beaujolais (Beaujolais and Beaujolais Villages). It is almost exclusively produced from the Gamay Noir grape. Usually this wine is unfiltered of just a little bit. So you can find pulp of grapes in your glass. They have a bright color. The nose and mouth are very fruity, slightly tannic and gourmand. It is a wine appellation reserved for red wines and rosé wines. They have to be enjoyed fresh (around 10-11° C, 50 / 51,8°F).
The principal winemaking stages:
Harvesting Mostly manual
Vatting
Alcoholic fermentation
Pressing
Blending of the free-run juice (juice which runs out of the vat) with the press juice (juice extracted by pressing) in a vat where they will finish their fermentation.
Malolactic fermentation
Bacteria transform the malic acid into lactic acid, creating rounder, softer, less acid wines. For the majority of wines this fermentation allows them to achieve biological stability in the month following the harvest.
They cover almost 10.000 hectares (24710,54 acres), producing not one Beaujolais Nouveau but many different ones whose characteristics vary according to the terroir and the winemaker's personal touch.
The production of Beaujolais and Beaujolais Villages Nouveaux has increased from 15 000 hl (2 million bottles) in the 50', when the anticipated release of new wines was subject to authorisation by the customs and taxation authorities, to an average of 210 000 hl (28 million bottles). This increase is due to the worldwide success of this singular wine which has become a veritable phenomenon of society.
Tips :
If Beaujolais and Beaujolais Villages Nouveaux can be tasted from the third Thursday in November, don't be afraid to leave a few bottles in your cellar. They will be perfect for Christmas and, why not, for the first barbecues of spring!
The Beaujolais Nouveaux will be available from your wine shops but also in supermarkets, hypermarkets as well as several "Beaujolais Bistros" worldwide. A non exhaustive list of "Beaujolais Bistros" is available on this link.
Choukroun Chicheportiche Jonathan with ©Inter-Beaujolais