Since 2019, Féret has initiated a shift towards a hybrid universe (digital and paper) by providing producers with ever more innovative services in order to maximize their notoriety.
Founded in 1812, Féret (Éditions Féret) played a key role in the preservation and promotion of Bordeaux's wine heritage. The publishing house is recognized for its reference publications on Bordeaux wines, offering unrivaled expertise in the region. His work "Bordeaux and its Wines", published in 19 editions since 1850, and still considered the Bible of Bordeaux wines.
Féret offers Bordeaux properties a digital showcase in 8 languages, and provides them with a powerful technical sheet manager in 8 languages as well: creation, management, automation, distribution and monitoring of consultations.
Since September 2023, Féret has continued its digital evolution and launched an innovative offer: wine tasting by journalists-partners at the request of producers. Winegrowers have the opportunity to have their wines tasted by world-renowned journalists. Among them, we can already cite Bernard Burtschy, Jonathan Choukroun Chicheportiche, Colin Hay, Chris Kissack, Xavier Lacombe, Jeff Leve, Richard Hemming. Thus, the properties have an easy way to have the vintages of their choice tasted, when they want, by whom they want, among partner journalists.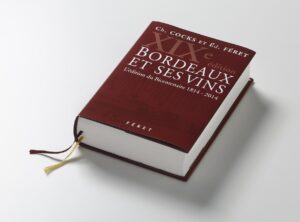 Journalists indicate their areas of influence in order to guide winegrowers in the choice of wines. They will provide a score out of 100 as well as a tasting note which can be published on the site bordeaux.feret.com, if the producer wishes t, but also possibly on the journalist's site, and will be free to use.
Féret will present the tasting notes in 8 languages, including Mandarin and Japanese, to provide information with a global reach.
The logistics for producers are simple: they send samples to Féret, who manages the relationship with journalists, and automatically receive the results of the tasting, which they can use as they wish.
This initiative aims to have a wine tasted very simply, by world-renowned journalists, and offers a very reasonable cost in order to make it accessible to properties of all sizes.