Bilan harvest 2014: Provence confirms a quality vintage and It announces a volume allowing it to supply markets.
Côtes de Provence – Coteaux d'Aix-en-Provence – Coteaux Varois en Provence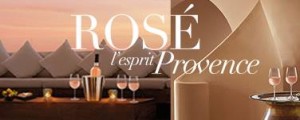 Harvest in Provence 2014 is estimated (in the words of experts to date) to 1.329 million hectoliters, an increase of 11.2% over the previous year and 7.6% compared to the average of last 5 years. Provence, after experiencing five years of small harvests due to weather conditions, harvested in 2014 an amount comparable to the 2011 harvest, which enable it to properly supply the domestic market and continue its development in export volume.
Back to the review of the year climate
Winter 2013/2014 was rather mild, and well watered, which helped recharge groundwater. Provence then experienced a spring rather hot and dry, often felt like an early summer to early June. From mid-June, a certain freshness moved Provence and it was frequently crossed by storms and localized irregular regimes characteristic of the region. These storms were sometimes accompanied by hail, fortunately not serious, rare exceptions to the Sainte-Victoire or north of the « Provence verte ». The eastern Provence, who had previously received little rain, was also well watered mid-August. The end of August and September had a good sunshine and temperatures worthy of "Indian Summer" allowing Provence grapes complete their maturity. Note however this period, the presence of localized rainfall events, but important ones. After these episodes of rain, Mistral has largely blown helping growers to contain the attacks of mildew and botrytis which were sometimes threatening. The cool nights have encouraged the phenolic maturity, and vegetative important advance in the early season has reduced the harvest in Provence and have started around August 20 in the early areas, and ended before the end of October.
Good quality of grapes: the 2014 vintage looks promising for Provence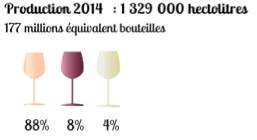 The winemaking that followed confirmed the quality of the harvest in 2014, offering various terroirs of Provence, the ability to fully express their specificity and typicality in the development of clear, complex and aromatic rosé; emblematic of Provence. But also, and this is not paradoxical in view of the majority production of Rose, to give red wines: a selection of plots, choice of varieties, a limited performance and careful aging enabling them to become very drinkable, full-bodied and generous, and the development of identifiable white wines of Provence, with their citrus aromas of white fruit and varietal characteristics Rolle grape widely used in Provence.
VINTAGE 2014: 159 Million bottles of Provence Rosés
The harvest of 2014 amounts to 1.329 million hectoliters in the Côtes de Provence, Coteaux d'Aix-en-Provence, Coteaux Varois en Provence (IPPC). Provence winemakers spend 88% of their 2014 crop production Rosé wine; 159 million bottles of Rosé de Provence AOP and carry the 2014 vintage on their labels.
In the current context favorable to rosé wine (rosé consumption in France has tripled in 20 years to achieve in 2014, 30% of the total wine consumption) and after five years of poor harvests, Provence assume its leadership position supplying different markets, and regain some continuity to grow for export including the United States (+ 40% export rosé wines of Provence between 2012 and 2013).
©CIVP