Pichon Comtesse still retains its signature idea, "wine is civilisation", and with this new advertising campaign, emphasises the dynamism and vitality which, combined with the estate's historical heritage, have propelled recent vintages to a new level of quality and recognition.
This new campaign evokes the dynamic of excellence led by the team in place and guided by the search for a balance between less human interventionism, more attention to the terroir, and the perpetual quest to help it reveal itself.
The new campaign invites us to look at art as an interpretation of nature. Nature writes the score, rewrites it every year, and it is up to man to interpret it.
The three visuals express this musical dimension, full of pulsations, vibrations and movement. And the nuances of the colours express those of the different wines – Grand vin and Réserve – and the different vintages.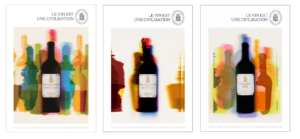 Image: Pichon Comtesse