MOUTON CADET presents a new vintage, Bio & Vegan: ROSÉ X MATHILDE
"
A wine that resembles me, a cuvée in my image. This is what we were looking for with Jérome! (Mathilde Sereys de Rothschild)
Summer and the sun are fast approaching, the opportunity to adorn the tables and terraces with the new Mouton Cadet Rosé x Mathilde cuvée which is unveiled under the 2022 vintage. Full of freshness and delicacy, Mouton Cadet Rosé x Mathilde niches for this launch in its bottle-holder bag, developed in collaboration with designer Astrid Eudeline (Little Anana).
A Rosé of a sunny vintage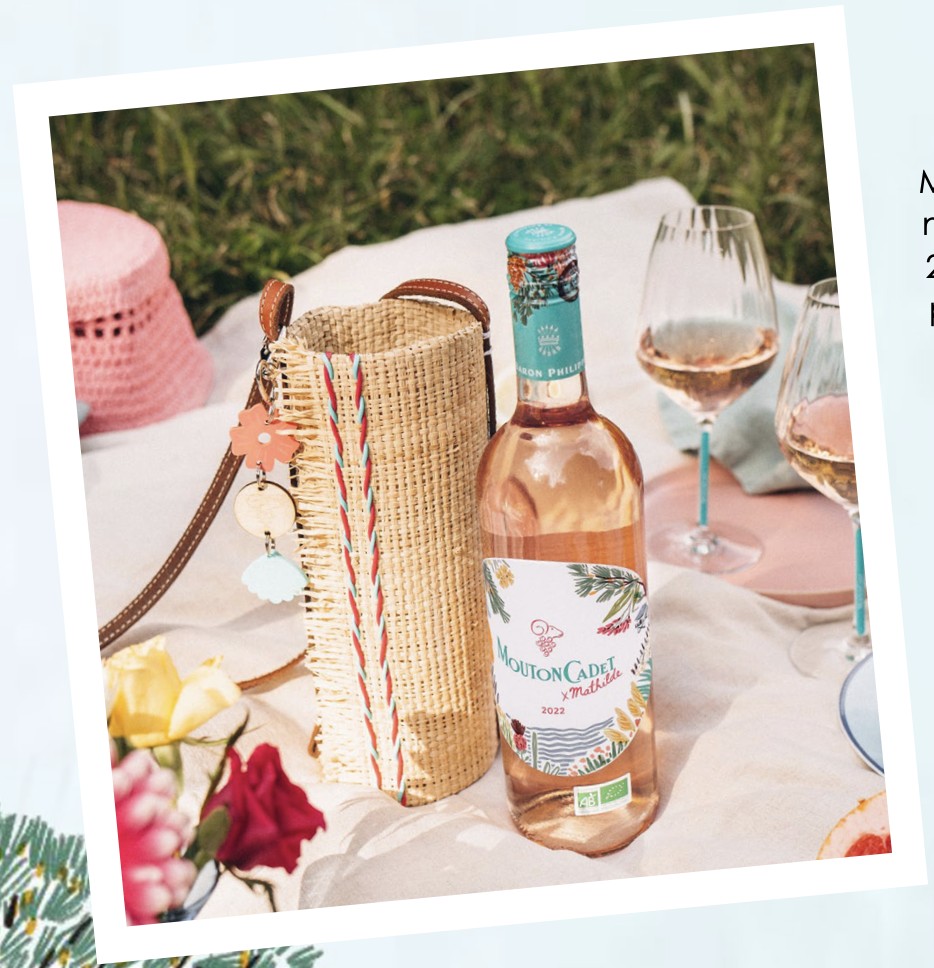 Mouton Cadet is a transgenerational family story. Like Mathilde Sereys de Rothschild, great-granddaughter of Baron Philippe de Rothschild who collaborated on the work of the label. Available in three versions, Le Beau (The beatiful), Le Bon (The delicious) and L'Avenir (The Future), the Mouton Cadet Rosé x Mathilde labels decorate the bottle with sunny colors, pine trees, pampas, a beautiful echo of the art de vivre (the art of living) of West Coast, that inspired it. Beyond the label, Mathilde also participates, hand by hand with Jérôme Aguirre, Director of Oenology and Mouton Cadet Wines, in the blending of this fresh and gourmand rosé.
An Organic and Vegan Rosé

Mouton Cadet Rosé x Mathilde 2022 is above all a wine resulting from a careful selection of plots cultivated in Organic Farming with 7 partner winegrowers. Certified organic, it is also vegan, the two imperatives for the brand, which is well aware of environmental issues and wishes to include its wines in an approach that is ever more respectful of the vine and of Man…
A fresh and gourmand Rosé

Mouton Cadet Rosé x Mathilde 2022 highlights Merlot, the king grape variety of Bordeaux, lulled by the sea breezes of the Atlantic Ocean from which it draws its freshness. Elegant and delicate, Mouton Cadet Rosé x Mathilde 2022 reveals a brilliant pale peony pink color. Rich in aromas of fresh and juicy red fruits such as redcurrant and raspberry, it opens with notes of grapefruit and citrus fruits which refresh the palate and then melt into an intense and mineral finish marked by delicacy of exotic fruits. A beautiful roundness brings gourmandise and pleasure. The acidity is not to be outdone and brings the tasting to become salivating on the finish.
An exceptional collaboration on the occasion of the release of this cuvée!

A resolutely modern Bordeaux brand committed to winegrowers, Mouton Cadet is constantly moving with the times and is launching its very first bottle holder bag for summer 2023 to take it everywhere with you.
In raffia, tangy scoubidous and vegetable leather handle, this bottle holder bag is the result of a collaboration with the Basque designer Astrid Eudeline (Little Anana). Designed in natural materials sourced in France, the Mouton Cadet bottle holder bag is entirely designed and manufactured in France.
It is then embellished with a key ring featuring the brand's iconic Barbacchus. With its colorful and bohemian style, the bottle holder bag is totally in tune with the times.
The iconic wine brand has created an accessory that is as useful as it is practical with a cooling liner to keep the bottle of Mouton Cadet Rosé x Mathilde at the right temperature… perfect for aperitifs and cocktail parties!