Coralie de Boüard presents Château Clos de Boüard (AOC Montagne Saint-Emilion)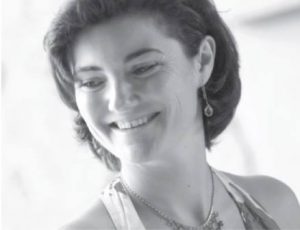 Coralie de Boüard, co-owner and board member of the Château La Fleur de Boüard (Lalande-de-Pomerol) announced the acquisition of Château Tour de Musset previously owned by Castel Frères company. The property is situated in AOC Montagne Saint-Emilion (30 hectares). The terroir is composed of clay and limestone. The Château is mainly planted with Merlot (19.62 hectares) but also has Cabernet Franc (7, 34 hectares) and Cabernet Sauvignon (2.59 hectares). The average age of the vines is 35 years.
The creation of Château Clos de Boüard is an ambitious family project that aims to take the leadership of the Montagne Saint-Emilion appellation.
Why did you choose to invest in this wine appellation?
"We started over 7 years ago to seriously seek a vineyard to buy. We have also thought to buy a winery in another wine region… The key idea was to find a great terroir. Château Clos de Boüard is in the Montagne Saint-Emilion appellation and more precisely on Parsac (locality Musset). We are on beautiful calcareous clays. We don't have to envy Saint-Emilion about the qualities of the terroir. The property profits from a good biodiversity and a good eco-system. "
What are your goals for the Château Clos de Boüard in a long term perspective ?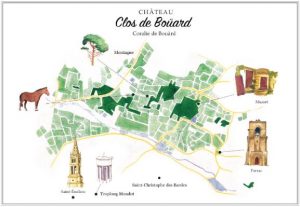 "We have a great ambitions for Château Clos de Boüard. We would like to become a leader, one of the leader châteaux of this wine appellation (AOC). As in Lalande-de-Pomerol with the Château La Fleur de Bouard we want to show that even on AOC mediatically less known, we can make great wines with great terroirs. 
We have made significant investments in the vineyard but also in the production tools. We wish to produce three different cuvées: a wine from a grape barrel fermentation (Vinification intégrale), Château Clos de Boüard (first wine) and a second wine (La Dame de Musset or Musset de Boüard).
Concerning the packaging you will have to wait until December to discover our different labels. "
2016 is going to be your first harvest Montagne Saint-Emilion. What are your first impressions of this vintage?
"Our clays have allowed us to be protected from scalding and stops maturity. This vintage looks qualitatively very beautiful. Quantities are good, it's good for a first harvest.
We started vineyard works on May according to Castel Frères (before flowering). We work with the same attention, the same rigor than at La Fleur de Boüard in Lalande de Pomerol. We are waiting to taste the first juice. Come join the En Primeur wine tasting (April 2017) to discover it! "
Let´s wish them the same success as to La Fleur de Boüard !