Annette Messager 
illustrates the label of 2017 Château Mouton Rothschild
Every year since 1945, a famous artist has been given complete freedom to create an original artwork for the label of the vintage to be released.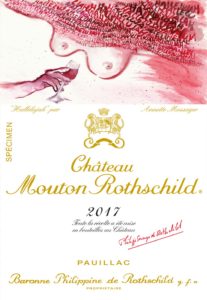 The owners of Château Mouton Rothschild, Philippe Sereys de Rothschild, Camille Sereys de Rothschild and Julien de Beaumarchais de Rothschild, gave the commission for the label of the 2017 vintage to the French artist Annette Messager, born in 1943. Hailed throughout the world for her creative talents, she takes objects, shapes and words from everyday life to create a world of sometimes joyful, sometimes alarming poetry, marked by her feminist convictions.
Annette Messager's work for Mouton is titled "Hallelujah". In an approach that is both realistic and symbolic, she combines two substances, milk and wine, which the Bible often associates with each other, hymning the virtues of both.
Focus on the artist, Annette Messager
Born in Berck in northern France in 1943, the French visual and graphic artist Annette Messager has held exhibitions in leading museums from Paris to London, Tokyo and New York, and won the most prestigious awards, including the Golden Lion at the Venice Biennale in 2005 and the Praemium Imperiale in Japan in 2016.
Reflecting her insatiable curiosity, her work ranges from drawings and three-dimensional assemblies to monumental installations. Unafraid of either different forms or sensitive issues, Annette Messager started out by imagining falsely intimate collector's albums under shifting identities, treating subjects such as childhood, marriage, men, proverbs, love, mushrooms, things that must be done and things that mustn't, and everyday words, those you say out loud and those you keep to yourself.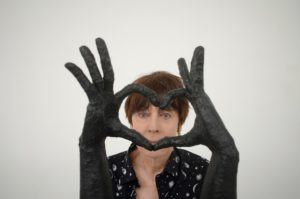 Later, those words would take shape and come to life, as in fairy tales where naturalized animal creatures watch puppets swaying, where body parts come together to form a circle or triangle, and where chimeras dance on walls while textile shapes breathe or manes of hair take wing.
Bearing the imprint of her feminist convictions, her work asks questions of the world as it is, with its rules and its limits, while at the same time surpassing and subverting it, joyfully and iconoclastically. The prisms through which Annette Messager's work shows life can evoke contrasting emotions, from bilious humour to rose-tinted optimism, black despair to the red mist of anger, for everything; love, play, bestiality, torture; is present in it.
©MoutonRothschild